08/03/16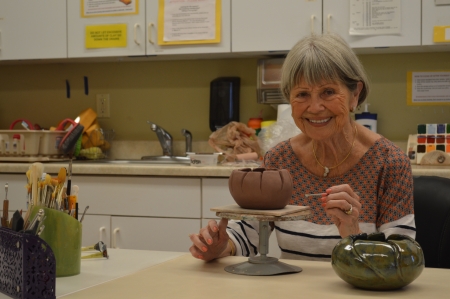 Lola Cotton, 81, the first transseptal mitral valve patient in Arizona, was back in the pottery studio five days after her procedure.
Lola Cotton's first mitral valve surgery served her well for at least five years. That open-heart procedure was done in 2009 by former Sarver Heart Center co-director Jack Copeland, MD. "That was a long recovery," recalled Lola, an 81-year-old resident of Saddlebrooke, Ariz.
The good results wore off about two years ago. "I started feeling very sick and weak, dropped to 90 pounds. I became anemic and required several blood transfusions. I asked my cardiologist if it could be that my porcine valve had started to leak, " said Lola. She was referred to Kapil Lotun, MD, at UA Sarver Heart Center. Indeed, her pig valve was leaking, and was the cause of her decline. In January 2016, Lola became the first patient in Arizona to have Transcatheter Mitral Valve Replacement using the transseptal approach.
The mitral valve, perhaps the most complex of the heart's four valves, permits blood flow from the left atrium into the final pumping chamber, known as the left ventricle. When the mitral valve becomes calcified or hardened, it can narrow and it becomes hard for blood to flow forward from the left atrium to the left ventricle. Under other circumstances, the valve leaks and some blood flows backward from the left ventricle to the left atrium. In both these situations, the lungs can fill with fluid and shortness of breath occurs. Other symptoms can result from heart-valve disease.
Until recently when the mitral valve became dysfunctional, open heart-surgery was required to either replace or repair the valve. Recently, "percutaneous" valve procedures have been performed more frequently. Percutaneous valve procedures are performed less invasively, typically using catheters inserted into the blood vessels in the groin and manipulating valves into place through catheters. For those too ill to survive open-heart surgery, these minimally invasive procedures have been shown to safely and effectively replace valves.
Beginning in 2012, Dr. Lotun opened the Transcatheter Aortic Valve Replacement (TAVR) Program for patients with aortic stenosis. More than 165 minimally invasive aortic valve procedures have been done at the Sarver Heart Center and Banner University Medical Center Tucson. In Lola's case, these techniques were used to place a new mitral valve via catheter with the transseptal approach – a first in Arizona.
"We now have the ability to replace multiple heart valves less invasively in patients who have high risk for open heart surgery," said Dr. Lotun, associate professor of medicine and director of Interventional Cardiology and the Structural Heart Disease Program and Vascular Medicine in Cardiology at the UA College of Medicine – Tucson. The approach used to place Mrs. Cotton's valve involved only a hole in the groin. The highly skilled doctors of the TAVR Program were able to place the new valve in the mitral position without any other incisions. This minimizes the invasiveness of the treatment and allows a faster post-procedural recovery. The technology for transcatheter valve replacement continues to advance, allowing more and more valves to be replaced less invasively.
"I felt good the first day after my surgery, and went home from the hospital on the third day. Five days later I was back in my pottery studio," said Lola. When asked how she felt about being the first in Arizona to have this procedure done, Lola said, "I saw it as an opportunity to turn my health around. Many people think you have to go to a place such as Cleveland Clinic for this level of care, but it's available right here."
For more information or to refer a patient, contact: 
Phone: (520) 694-4686 • Fax: (520) 694-1007 • BUMCTStructuralHeart@bannerhealth.com