The bicuspid aortic valve patient was from New Mexico and also suffered from kidney disease. He was released the next day from the hospital and is now back home.
"He was not on hemodialysis. We were trying to prevent him from having to go on dialysis. That's one of the reasons we minimized use of the contrast dye," noted Monique Crawford, RN, a clinical coordinator for the program. "We didn't want to tip him over the edge with that potential reaction."
Bicuspid aortic valves are a congenital heart defect involving an inherited form of heart disease where two of the leaflets of the aortic valve fuse during development in the womb resulting in a two-leaflet (or bicuspid) valve instead of the normal three-leaflet (or tricuspid) valve—see illustration at top of this article. This is the most common cause of heart disease present at birth and affects about 1.3 percent of adults, according to the New England Journal of Medicine. In many cases, a bicuspid aortic valve will cause no problems. Those with this condition, however, may become tired more easily and find it difficult to maintain stamina for strenuous activities due to poor heart performance.
When treatment is necessary, normally, contrast dye is administered during preparatory steps for diagnoses as well as during the procedure to help identify where physicians are placing the valve via this minimally invasive procedure. About 100 ml of dye is used in each of three steps: first, during cardiac catheterization for an angiogram; second, during a CT scan and, finally, during the procedure itself. Again, here, only about 25 ml of dye was used in the first step and the second step was skipped altogether.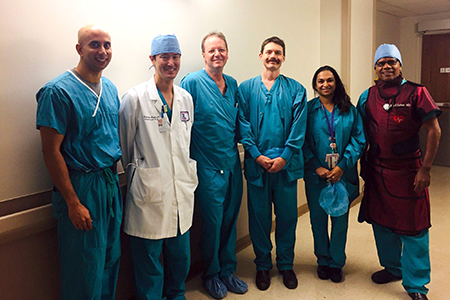 Structural heart team for this procedure (on right): From left, Dr. Ranjith Shetty (interventional cardiologist); Dr. Toshinobu Kazui (cardiac surgeon); Dr. George Gellert (cardiac anesthesiologist); Dr. Paul Ford (cardiac anesthesiologist); Dr. Sam Paidy (cardiac anesthesiologist) and Dr. Kapildeo Lotun (interventional cardiologist), director, Structural Heart Disease Program.
For more information or to refer a patient, contact: 
Phone: (520) 694-4686 • Fax: (520) 694-1007 • BUMCTStructuralHeart@bannerhealth.com