A 73-year-old woman from Silver City, N.M., became the 300th transcatheter aortic valve replacement patient when she was referred to the University of Arizona Sarver Heart Center cardiology team at Banner – University Medical Center Tucson to treat aortic stenosis and coronary artery disease. Her Silver City cardiologist recently diagnosed her with stage 4 heart failure.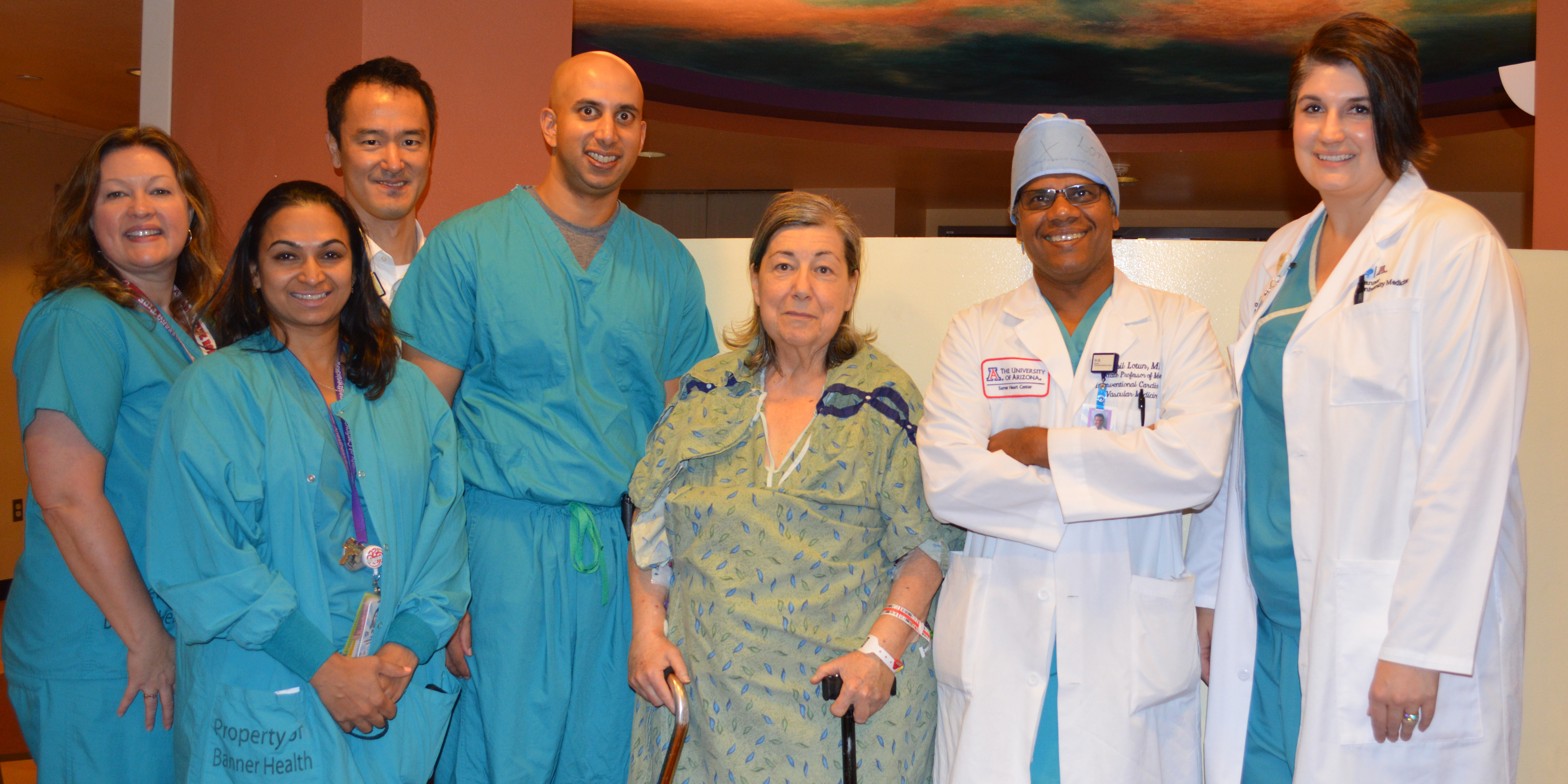 Members of the TAVR Team with their 300th patient (from left) Kristie Fry, ACNP-BC, Samata Paidy, MD, Toshinobu Kazui, MD, PhD, Ranjith Shetty, MD, Kathleen Rothwell, Kapil Lotun, MD, Devan Lodge, RN, MSc, CCRN.
In some ways Kathleen Rothwell, age 73, is a typical woman with heart disease. While caring for other family members, including a sister who was undergoing cancer treatment, she didn't make time to go to the doctor for herself and she blamed her breathlessness on something other than her health. "When I lived in Miami and couldn't breathe, I blamed it on the heat, humidity and general congestion of that big city. When I moved to Silver City, I blamed it on the elevation. I was experiencing breathlessness for about two years before I went to a doctor," said Kathleen.
On March 2, 2018, her cardiologist in Silver City ordered an electrocardiogram. "I was shocked when she came in and said I had stage 4 heart failure. I was oblivious to my symptoms, which may have helped because I wasn't overly obsessed about my health," said Kathleen. Her cardiologist was concerned enough to refer her for specialty care in either Albuquerque or Tucson.
"I selected Tucson and I'm so grateful I was guided here. I'm very pro alternative medicine and skeptical of allopathic medicine," said Kathleen. "The entire team here has opened my eyes. I'm very impressed by the teamwork, not just the doctors and nurses, but also the people who clean my room. Everyone is so dedicated to their work. The doctors and nurses finish each other's sentences and they even appear to know what the other is thinking by each other's looks."
Kathleen was first evaluated for an open-heart coronary artery bypass (CABG) surgery, but her advanced heart disease made her too frail for such an invasive procedure. The Structural Heart Disease Team first implanted several stents to open the coronary arteries. A few days later, they replaced Kathleen's aortic valve using the TAVR method in which a catheter is inserted in a small incision in the groin. The crimped valve is guided through the artery, then positioned and opened to implant it in the aortic valve.
A life-long learner who has worked in libraries for more than 30 years, Kathleen said sometimes you have to learn the extremes to be discerning and she feels it's part of healing to not be too rigid in our thinking. "I no longer feel out of breath. It's a miracle."