Patient Receives Trans Aortic Valve Replacement in an Already-Replaced Heart Valve at Age 96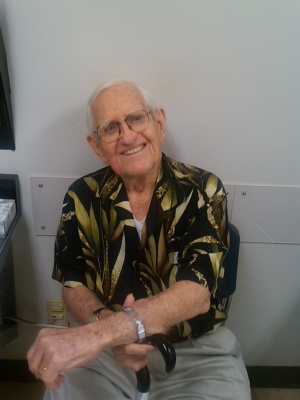 Robert Lawrence had his first valve replacement in 2000 when he was a "mere" 84 years old and that lasted 13 years until just recently when this 96-year-old Bisbee man was told by his Sierra Vista cardiologist that he didn't like the sound of his heart valve.
He was referred to Kapil Lotun, MD, at The University of Arizona Medical Center – University Campus, a cardiology specialist in transcatheter aortic valve replacement (TAVR). After undergoing required testing, he underwent placement of a new valve into his already-replaced valve through a tiny groin incision. "This is the first time a TAVR inside a replaced valve was done in Southern Arizona," says Dr. Lotun, an associate professor of medicine and director of the Structural Heart Disease Program and Vascular Medicine in Cardiology at the UA College of Medicine – Tucson.
Born in 1916, Mr. Lawrence had a long career as a process chemical engineer with Northrup Aircraft until he first retired in 1973. However, he continues to enjoy decades of activity and enrichment. "Shortly after I retired, my employer asked me to work as a troubleshooter on special projects. I traveled all over the United States and Taiwan, essentially working with people to help them correct issues with manufacturing their products because they weren't following the proper processes," says Mr. Lawrence. He retired again around 1986, ending his career in Switzerland where he and his wife spent an extra month traveling before settling in California.
Unfortunately, 2000 was a difficult year for Mr. Lawrence. After receiving his first heart valve, "all went fine until five hours later when my aorta ruptured," recalls Mr. Lawrence. The physicians in California were able to patch the aorta and "although there was much stress on my heart, I recovered," he adds. Life sent another turn when he lost his wife three weeks after his heart procedures. "After all of this, my property started to get to be too much to manage, so my niece and nephew, who are in real estate, encouraged me to move to Bisbee. They found a wonderful renovated house built in 1906. I listed it with the National Registry of Historic Houses," says Mr. Lawrence.
A lover of classical music, Mr. Lawrence, who is legally blind because of macular degeneration, is hoping to find a way to once again read music and resume playing the organ. He and his nephew hold season tickets for the Arizona Opera Company's performances in Tucson. You may find them sitting on the veranda in Bisbee sipping Scotch while listening to classical music or opera. "The key to a long life is a good wife and good Scotch," says Mr. Lawrence. With the help of a magnification machine, he reads a lot, especially financial news to stay up to date on his market activity. He also enjoys cooking when his niece and nephew aren't around to cook his meals and makes bread with his nephew.
"I still catch the bus outside my house to get my mail in downtown Bisbee and usually have lunch during the outing. I walk around, but I am slowing down. I'm not sure that my heart limits my activity, but it may be my age," he adds.
Mr. Lawrence is one of numerous patient success stories since the UAMC TAVR program began in August 2012. "We are exceeding national goals across all major metrics, including mortality rates, stroke and average length of stay in the hospital," says Dr. Lotun. "The credit goes to our TAVR team, including administrative, cardiac catheterization lab and operating room staffs, nurse practitioners, perfusionists and other physicians."
"Since Mr. Lawrence's procedure we have performed similar valve-in-valve procedures. Our center is the only one in Southern Arizona that now offers a variety of TAVR approaches so we can provide the best alternative for an individual patient's condition," says Dr. Lotun. The TAVR approaches include transfemoral (incision in the upper leg/groin area), conduit (temporary bypass tube in the artery), transaortic (small incision in the chest and aorta) and transapical (incision in the chest between the ribs).  
For more information or to refer a patient, contact: 
Phone: (520) 694-4686 • Fax: (520) 694-1007 • BUMCTStructuralHeart@bannerhealth.com