Innovating. Life-Saving. Patient Care.
Heart News
Better Way to Measure Frailty in Patients with Advanced Heart Disease
08/24/2021
Dr. Nancy Sweitzer, advanced heart disease cardiologist, teamed up with Nima Toosizadeh, PhD, a biomedical engineer, to study a way to make frailty assessments less subjective when it comes to determining advanced treatments for patients diagnosed with heart failure.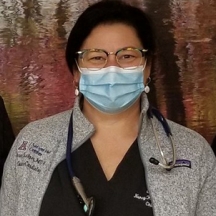 Vaxed Up to Protect Patients. Please Do Your Part.
07/29/2021
We have been vaccinated to keep our patients, our families, our co-workers and our community safe. If you haven't yet been vaccinated, please schedule an appointment. "Some of my patients have raised concerns about heart inflammation (called myocarditis or pericarditis), which may have occurred following COVID-19 vaccination. These cases are very rare. We are seeing many more COVID 'long haulers' - patients who have ongoing heart and lung issues due to the impact of the virus on their health," said Dr. Nancy Sweitzer.