Innovating. Life-Saving. Patient Care.
Heart News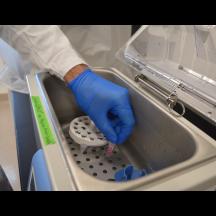 Early-career Heart Disease Scientists Receive Investigator Awards
01/22/2020
Sarver Heart Center awarded 10 Investigator Awards totaling $165,000 for the 2019-2020 grant cycle. These competitive research projects focus on advancing knowledge in the areas of surgical interventions, the role of provider bias, heart muscle development and interventions at the cellular level, mechanical circulatory support, congenital heart disease and pulmonary hypertension. "We are grateful for our generous donors who ensure the ongoing success of the Investigator Award Program," said Nancy K. Sweitzer, MD, PhD, director of the UA Sarver Heart Center and chief of cardiology.
Students Learn CPR as High School Graduation Requirement in Arizona
01/21/2020
High school seniors across Arizona will have to know how to perform "Chest-Compression-Only" CPR as a requirement for graduation. "This new law came up suddenly, with the state leaving schools scrambling to comply without providing any resources. That's why it's so valuable for schools to have organizations like Sarver Heart Center ... to turn to for help."
Four Cardiologists Join UArizona Sarver Heart Center
01/09/2020
The new faculty cardiologists bring expertise in interventional cardiology, cardiac imaging, heart failure and transplant cardiology to the University of Arizona Sarver Heart Center and Banner – University Medical Center. Schedule an appointment today.