The University of Arizona College of Medicine Interventional Cardiology Fellowship Program has two positions. This fellowship is designed for individuals interested in a cardiology career with interventional procedures as a key component. Completion of an accredited ACGME cardiology fellowship is required.
The interventional fellowship, established in 2003, is a one-year program devoted to clinical training and the opportunity for clinical or basic investigation under the direction of the faculty. The clinical rotations provide broad exposure to invasive and interventional cardiovascular procedures, such as percutaneous coronary intervention (POBA, stenting, rotoblater), therapies for structural heart disease, experience with intravascular ultrasound (IVUS), Fractional Flow reserve (FFR), intraaortic balloon pump insertion, percutaneous placement of left ventricular assist device (Impella) are all available. Cardiovascular therapeutic procedures volume of 350-400 cases per fellow is anticipated.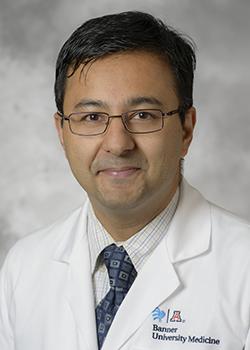 Deepak Acharya, MD, MSPH
Cardiology Interventional Fellowship Training Program
Associate Professor of Medicine
University of Arizona College of Medicine
P.O. Box 245046
Tucson AZ 85724-5046
You may also email the program coordinator at Cardfellowship@shc.arizona.edu for information regarding our program or call 520-626-8927.