The University of Arizona College of Medicine Interventional Cardiology Fellowship Program has two positions. This fellowship is designed for individuals interested in a cardiology career with interventional procedures as a key component. Completion of an accredited ACGME cardiology fellowship is required.
The interventional fellowship, established in 2003, is a one-year program devoted to clinical training and the opportunity for clinical or basic investigation under the direction of the faculty. The clinical rotations provide broad exposure to invasive and interventional cardiovascular procedures, such as percutaneous coronary intervention (POBA, stenting, rotoblater), therapies for structural heart disease, experience with intravascular ultrasound (IVUS), Fractional Flow reserve (FFR), intraaortic balloon pump insertion, percutaneous placement of left ventricular assist device (Impella) are all available. Cardiovascular therapeutic procedures volume of 350-400 cases per fellow is anticipated. 
Interventional fellows train at three Tucson hospitals: Banner - University Medical Center - Tucson, Banner - University Medical Center - South Campus, and the Southern Arizona VA Health Care System. Take a Virtual Tour of University of Arizona Health Sciences and Banner campuses.
DIVERSITY
We fully embrace the University of Arizona's commitment to diversity and inclusion. Race, ethnicity, culture, physical abilities, talents, language, spiritual practices, sexual orientation, gender identity and life experiences as essential aspects that we must respect in order to train our country's future cardiologists and promote health and well-being for all of our patients.
Meet the Interventional Cardiology Faculty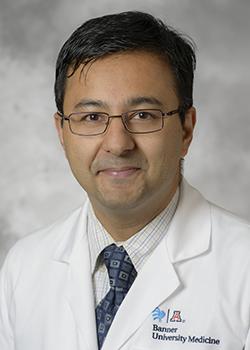 Interventional Cardiology Fellowship Director
Deepak Acharya, MD, MSPH
Associate Professor of Medicine
University of Arizona College of Medicine
P.O. Box 245046
Tucson AZ 85724-5046
You may also email the program coordinator, Christeana Castro, at christeanacastro@shc.arizona.edu for information regarding our program or call 520-626-1232.
Take Five with a Fellow
J.R. "Keng" Pineda, MD, PhD, a 2020 interventional cardiology graduate and now assistant professor of medicine, discusses his training and decision to join the University of Arizona Sarver Heart Center faculty. Watch Video.
Muhammad Ajmal, MBBS, a 2021 cardiovascular disease fellowship graduate and current interventional cardiology fellow, discusses his fellowship experience and research interests. Watch Video.
Fellows listing on the Department of Medicine Website
Congratulations to the 2021 Interventional Cardiology Graduates 
Interventional Cardiology Fellows and their next career moves:
Chioma Nwagbara, MBBS – Interventional Cardiologist, CHI Saint Joseph Hospital, London, Kentucky
Kristina Skinner, DO - Interventional Cardiologist, Saline Memorial Hospital, Benton, Arkansas