Our Cardiovascular Disease Fellowship Program, which was launched in 1971 and certified in 1988, is affiliated with the University of Arizona Sarver Heart Center, a center of excellence with over 145 members who are cardiologists, cardiothoracic and vascular surgeons, neurologists, research scientists and numerous other medical specialists.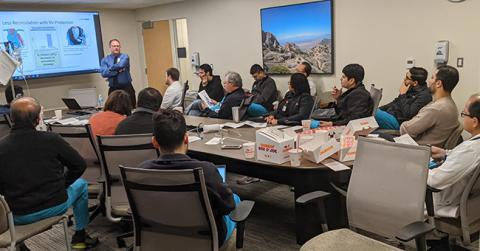 Our program, nationally recognized for its outstanding faculty and its excellence in training in clinical cardiology, is a three-year program accredited for a total of 20 cardiology fellows by the National Residency Review Committee of the ACGME. The program trains in all disciplines recommended by the American College of Cardiology COCATS, thereby allowing the fellow to fulfill the requirements of level II COCATS training in the areas that they wish to emphasize. We support J1 visas.
Please see our Research Training page for further information and individualizing training to meet your career needs.
Our fellows rotate in all cardiology subspecialties at three Tucson hospitals: Banner University Medical Center - Tucson Campus, Banner University Medical Center - Tucson South Campus, and the Southern Arizona VA Health Care System.  Fellows receive training in all aspects of cardiology including advanced imaging, heart failure, transplantation, electrophysiology, congenital heart disease and interventional cardiology.
How to apply: 
The cardiovascular disease fellowship program at the University of Arizona participates in the National Resident Matching Program (NRMP). Applicants must apply through the ERAS system before July 31. The documents that are required are:  3 (or more) letters of recommendation, letter from program director, CV, ERAS application, a photograph, USMLE, MSPE transcripts and personal statement
Program Director: 
Julia H. Indik, MD, PhD
Professor of Medicine
Director, Cardiovascular Disease Fellowship Program
Flinn Foundation and American Heart Association
Endowed Chair in Electrophysiology
(520) 626-1416
jindik@shc.arizona.edu
To obtain further details, please contact our program coordinator.
Program Coordinator: Renae Juska
cardfellowship@shc.arizona.edu
520-626-1232