Our Cardiovascular Disease Fellowship Program, which was launched in 1971 and certified in 1988, is affiliated with the University of Arizona Sarver Heart Center, a center of excellence with over 165 members who are cardiologists, cardiothoracic and vascular surgeons, neurologists, research scientists and numerous other medical specialists.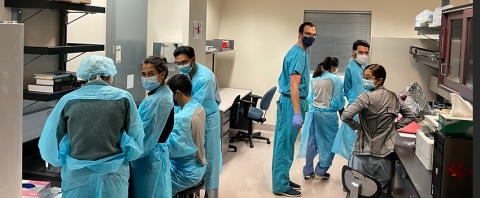 Our program, nationally recognized for its outstanding faculty and its excellence in training in clinical cardiology, is a three-year program accredited for a total of 20 cardiology fellows by the National Residency Review Committee of the ACGME. The program trains in all disciplines recommended by the American College of Cardiology COCATS, thereby allowing the fellow to fulfill the requirements of level II COCATS training in the areas that they wish to emphasize.
DIVERSITY
We fully embrace the University of Arizona's commitment to diversity and inclusion. Race, ethnicity, culture, physical abilities, talents, language, spiritual practices, sexual orientation, gender identity and life experiences as essential aspects that we must respect in order to train our country's future cardiologists and promote health and well-being for all of our patients.
Please see our Research Training page for further information and individualizing training to meet your career needs.
Our fellows rotate in all cardiology subspecialties at three Tucson hospitals: Banner - University Medical Center - Tucson, Banner - University Medical Center - South Campus, and the Southern Arizona VA Health Care System.  Fellows receive training in all aspects of cardiology including advanced imaging, heart failure, transplantation, electrophysiology, congenital heart disease and interventional cardiology.
Take a Virtual Tour of University of Arizona Health Sciences and Banner campuses.
 

Program Director

OLIVIA HUNG, MD, PHD
Assistant Professor of Medicine
ohung@arizona.edu

 

Electrophysiology Program Director
Outgoing General Cardiology Program Director

JULIA INDIK, MD, PHD 
Professor of Medicine
Flinn Foundation and American Heart Association Endowed Chair in Electrophysiology
jindik@shc.arizona.edu

 

Associate Program Director

MADHAN SHANMUGASUNDARAM, MD 
Associate Professor of Medicine
msundaram@shc.arizona.edu

 

Associate Program Director

TUSHAR ACHARYA, MD, MPH 
Assistant Professor of Medicine
tacharya@arizona.edu
---
Take 5 With Our Fellows
We asked current fellows what they were looking for and what they found in our Cardiovascular Disease Fellowship Program. Common themes:
Friendly colleagues who work hard and have fun together
Accessible faculty who are national leaders, yet genuinely care about educating cardiology fellows
Research opportunities, including clinical and population-based studies, and bench research in NIH-funded laboratories
Diversity of fellows, faculty, patients, heart conditions
Tucson is a great place to live, offering good food, great outdoor activities, more greenery than expected in a desert, and affordability
Mahesh Balakrishnan, MBBS
Fellow, Cardiovascular Disease, 2019-2022
"As a resident here, I felt the cardiology faculty was world renowned, yet they were committed to educating fellows and residents. As a general cardiology fellow, who didn't yet know which subspecialty I would pursue, it was important to have access to the full scope of interventional, EP, heart failure, transplant and world-class imaging. I've learned as much from my co-fellows as I have from the faculty, and leadership is very open to feedback. Plus, I fell in love with Tucson, the community, food, weather, outdoors, hiking. The scenery is very relaxing and helps you unwind at the end of the day."
Clinical Assistant Professor of Medicine, Southern Arizona VA Health Systems
Fellow, Cardiovascular Disease, 2018-2021
"People are really approachable here. I enjoy the collegiality among the fellows and the teaching faculty. They have provided great mentoring. I'll be staying on as assistant professor at the Southern Arizona VA Hospital. I've become certified in imaging, including echo, nuclear, cardiac CT and I plan to develop an advanced Imaging training program at the VA. It gives you a different experience and patient population. I've continued a research collaboration with University of Utah, analyzing a data base of chest-pain patients, based on sex, symptom presentations and how patients were treated. We have seen gender differences."
Fellow, Cardiovascular Disease, 2020-2023
"There's strong mentorship from faculty who actually seek you out. We also have opportunities to mentor residents. I was invited to teach the South Campus Family Medicine residents, presenting an AFib lecture. The more we study to teach, the more it cements our knowledge. There's also a huge wellness focus here – healthy, happy fellows are productive fellows. The fellows here truly like each other. I'm interested in academic medicine and the number of women in leadership here is exceptional. I see that a career in academic medicine is achievable."
Fellow, Cardiovascular Disease, 2019-2022
"Overall, it is an environment filled with learning and research. It's a robust program which includes STEMI first call, clinical experience at multiple sites providing diverse patient population exposure, morning education conferences and ample procedures for COCATS certification. The sunny demeanor of Tucson incidentally happens to be an asset for hiking and photography, for which I am very grateful. The fellowship program has been incredibly supportive to my needs as a burgeoning cardiology fellow. Currently I am interested in the field of interventional cardiology and hope to contribute to future medical device design and testing."
Fellow, Cardiovascular Disease, 2020-2024
"There's an overall sense of innovation here. People are really open to new ideas and really want to get stuff done. Currently pulling data from an EHR is too slow and doesn't make sense. My research will develop a way to funnel information out of the EHR into a data base to make data more friendly to research. What I most like on the clinical side is the faculty's passion for what they do. This trickles down to the amount of technology innovations and devices. All these tools are at the tips of our fingers. This all opens up my view as a trainee as to what is possible. I want to merge my clinical and research careers. The T32 setting here has really set me up for success. I feel so supported here as a first-year fellow."
Curious About Our 2023 Cardiovascular Disease Fellows?
Read about the 2023 graduating class and faculty and fellow awards.