Please join us for the return of the Sarver Heart Center lecture series in Green Valley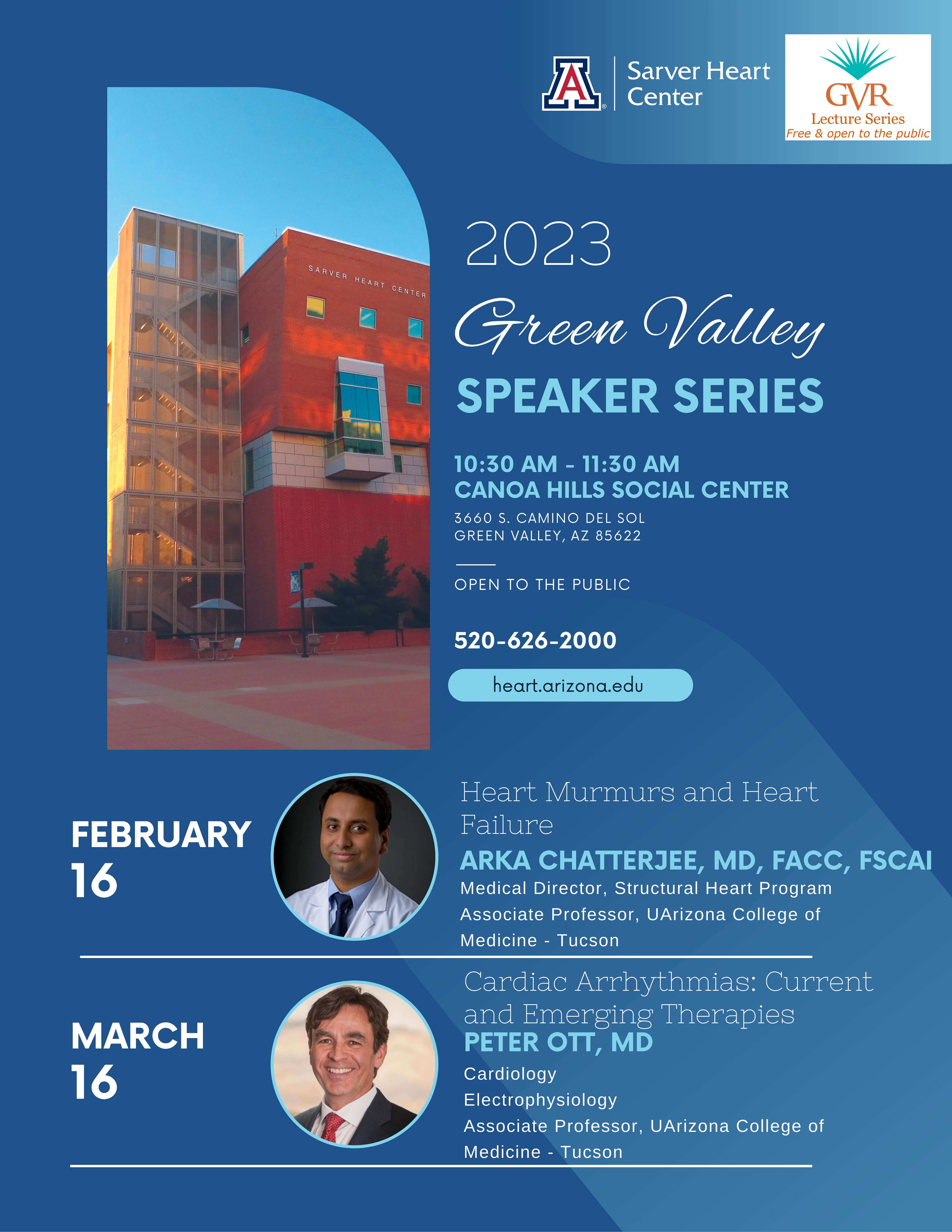 10:30 a.m. - 11:30 a.m. 
Thursday, February 16, 2023: Dr. Arka Chatterjee
Thursday, March 16, 2023: Dr. Peter Ott
Canoa Hills Social Center
3660 S. Camino del sol
Green Valley, AZ 85622
Open to the public
---
Heart Murmurs and Heart Failure
February 16 at 10:30 a.m.
Arka Chatterjee, MD, FACC, FSCAI
Associate Professor of Medicine
Medical Director Structural Heart Program, Banner University Medical Center - Tucson
Associate Program Director - Interventional Cardiology Fellowship Program
 
Dr. Chatterjee joins Banner University Medical Center - Tucson as the Associate Director for Structural Heart disease after being an integral part of a high-volume structural program at the University of Alabama at Birmingham.  He originally hails from India and completed medical school at the University of Delhi followed by a residency at the University of Louisville. He underwent cardiology and interventional cardiology fellowships at the University of Alabama at Birmingham, where he then joined the faculty in 2016. In his first year on faculty, he was trained on structural and congenital procedures by both adult and pediatric interventionist mentors, gaining an experience which is extremely rare for adult cardiologists. Subsequently he was a key part of both the adult structural and adult congenital interventional programs. He is experienced in transcatheter therapies for valvular disease and other congenital / structural heart defects. For example, he has done more than 200 transcatheter aortic valve replacement (TAVR) procedures.  He finds the best part of working in the structural heart team is the necessity of a team structure - different specialty physicians / surgeons, advanced providers all working to find the best treatment pathway for each individual patient and is excited to be part of the vibrant team at Banner in Tucson.
---
Cardiac Arrhythmias: Current and Emerging Therapies
March 16 at 10:30 a.m.
Peter Ott, MD
Associate Professor, (Clinical Scholar Track)
Peter Ott, MD, is associate professor of clinical medicine at the University of Arizona College of Medicine - Tucson. He joined the UA faculty in 1999. A native of Germany, he received his medical degree from the University of Heidelberg and completed his medical residency training at the University of Arizona. He served one additional year as chief medical resident and then moved to Denver, Colo., where he completed fellowship training in cardiology at the University of Colorado. Dr. Ott returned to Germany for two years, working in cardiology/electrophysiology at a large tertiary referral center for cardiology in the southwest of Germany. He transferred to the University of Utah in Salt Lake City for additional training in cardiac electrophysiology before returning to the UA. He is the holder of The Peter Ott, MD, Endowed Chair of Electrophysiology at the UA Sarver Heart Center. Dr. Ott is board certified in internal medicine, cardiovascular diseases and cardiac electrophysiology. His clinical expertise is the management of patients with cardiac arrhythmias, including catheter ablation therapy and device therapy (implantable defibrillator and pacemaker).