Medical researchers often have an abundance of questions; however, the difficulty comes in finding funding to search for answers. Thanks to the generosity of our donors, the University of Arizona Sarver Heart Center's Investigator Awards Program continues to provide a gateway between these ideas and the early data required for researchers to compete for national grants.
Undergraduate/Medical School Student Awards
Janelle Rodriguez, BS, MS, a first-year medical student, received the Margarito Chavez Award for her project, "Understanding a role for ERβ on elastase-induced vascular inflammation in cerebral arteries" under the mentorship of Rayna Gonzales, PhD, associate professor in the Department of Basic Medical Sciences in the UA College of Medicine - Phoenix. Recent studies have shown that estrogen via estrogen receptor beta (ERβ), a subtype of estrogen receptor, may play a protective role in aneurysm progression and development. This study will provide clinically relevant information about ERβ's role in cerebral aneurysm pathogenesis.
Novel Research Project Awards in the Area of Cardiovascular Disease and Medicine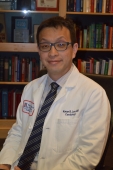 Kwan Lee, MD, Assistant Professor of Medicine in the Division of Cardiology, will study "Digital Health Intervention via Mobile Application for Improvement of Patient Compliance and Secondary Cardiovascular Outcomes in Patients Post Percutaneous Coronary Intervention." This award was made possible by Phil and Bobbie Hanft, and J.G. Murray. This pilot study will examine the feasibility of using a mobile technology platform to serves as a link between patients who recently have undergone coronary stent placement, their caregivers, and their medical team. This study will provide the pilot data for a larger, future randomized trial focused on prevention of future heart attacks. This investigation will also lay the groundwork to link electronic medical records with a healthcare app as a powerful tool for future outcomes-based research.
Jagdesh Kandala, MD, MPH, third-year cardiovascular disease fellow, received an award made possible by Frank and Alex Frazer. In collaboration with cardiologists Frank Marcus, MD, Professor Emeritus, and Mark Friedman, MD, Clinical Professor of Medicine, he is studying the Valsalva maneuver in heart failure. If you've ever tried to breathe out while holding your nose with your mouth closed, you've done the Valsalva maneuver (VM). In this study, Dr. Kandala will record blood pressure and heart rate response while patients are blowing forcefully into a tube connected to manometer to measure pressure. Cardiovascular response to VM can provide an accurate estimate of pressures in the heart chambers and has been shown to be accurate, reliable and reproducible. This information may help cardiologists recognize pressure increases and intervene early, preventing hospitalizations for heart failure.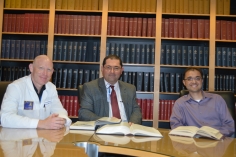 Aiden Abidov MD, PhD, Associate Professor of Medicine and Radiology, received an award to study "Interventricular uncoupling in pulmonary arterial hypertension: development and validation of an MRI-based noninvasive assessment of left and right ventricular function using invasive hemodynamics and septal strain measurements." The study will assess right ventricular geometry changes in patients with pulmonary arterial hypertension, a disease of the pulmonary blood vessels leading to right ventricular failure. Dr. Abidov and his colleagues, Franz Rischard, DO (left), Assistant Professor of Medicine, and Ankit Desai, MD (right), Assistant Professor of Medicine, are conducting in-depth analysis of existing imaging data to compare a novel noninvasive imaging method with measurements obtained invasively during cardiac catheterization procedures. The noninvasive imaging method may enhance diagnostics and treatment for these patients. This award was made possible by Florence Jaffe, and Mark and Emma Schiffman.
Kapil Lotun MD, Associate Professor of Medicine, received an award made possible by Doris Griswold, and William and Dorothy Shaftner for the study of "Selective Coronary Hypothermia in Myocardial Infarction." Advances to limit damage to heart muscle and the brain following a heart attack have focused on shortening "door-to-balloon" time (how quickly an emergency room patient is taken to the catheterization lab to open a blocked artery) and whole-body cooling. Dr. Lotun's study will investigate the incremental effectiveness of selective and regional cooling in the area of the heart attack. He is collaborating with Karl B. Kern, MD, Professor of Medicine, and Ranjith Shetty, MD, Assistant Professor of Medicine.
Samantha Harris, PhD, Associate Professor of Cellular and Molecular Medicine, will study, "Regulation of Cardiac Myosin Binding Protein-C (cMyBP-C) by Calmodulin." Mutations in this protein are among the most frequent causes of hypertrophic cardiomyopathy, which leads to heart failure and increases the risk of sudden cardiac arrest. These experiments will provide new basic information regarding novel pathways by which contractile proteins and calcium signaling pathways communicate. Her award was made possible by the following contributors: Mark and Emma Schiffman, Frank and Alex Frazer, and Irving J. Levinson.
Pediatric/Congenital Heart Disease Awards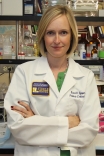 Katri Typpo MD, MPH, Assistant Professor of Pediatrics, received the William "Billy" Gieszl Award to pursue a study called, "Gut Dysbiosis is a Target to Improve Surgical Outcomes for Infants Born with Congenital Heart Disease." A disordered intestinal microbiome is emerging as a cause of post-surgery intestinal complications in infants with congenital heart disease. Dr. Typpo's goal is to identify methods to target the microbiome and improve post-surgical care of these vulnerable patients.
The Finley and Florence Brown Endowed Research Award
Christine Henderson, a PhD candidate under the mentorship of Carol Gregorio, PhD, Professor of Cellular and Molecular Medicine and Director of the Molecular Cardiovascular Research Program, was funded to study "CAP2, a novel regulator of thin filament length regulation in the heart." The goal of this study is to understand the role of cyclase-associated protein 2 as a novel regulator of thin filament length. Greater understanding of thin filament regulatory proteins is necessary for proper heart function and identification of new thin filament regulatory proteins could be instrumental in the design of pre-clinical screening, therapy and, hopefully, repair for heart disease, particularly dilated cardiomyopathy.
Sarah Lehman, a PhD candidate, will use her award to study "In vivo and in silico Modeling of Structural and Functional Effects of Genetic Left Ventricular Non-compaction."  The ultimate goal is to use these two models to predict the primary cause of a genetic cardiomyopathy and track the progression of the biological effects of mutations in order to design specific and timely therapeutic interventions. In addition to the Finley and Florence Brown Award, Lehman also received the Margaret Terry Memorial Research Award. Jil C. Tardiff, MD, PhD, Professor of Medicine and Cellular and Molecular Medicine, is her mentor.
Update from 2014-2015

Puneet Raman, first-year medical student at UA College of Medicine – Phoenix, was the 2014-2015 recipient of the Margarito Chavez Award for undergraduates/medical students. Mr. Raman is also working in Dr. Gonzales' lab on the Phoenix campus. His study called, "Influence of High Fat Exposure on Pro-inflammation Enzyme Expression in Female Human Coronary Artery Vascular Smooth Muscle Cells," received an award from the Arizona Chapter of the American Physiological Society in the graduate student session. The poster presentation of his research addressed the effect of palmitate, a saturated fatty acid, on COX-2 activity in human vascular smooth muscle cells from the brain and coronary circulations. He is working on a manuscript to submit for publication.