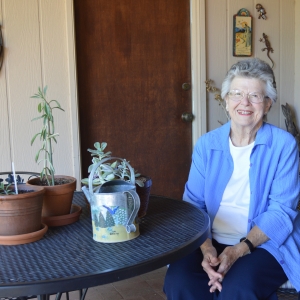 When 80-year-old Ann Martin arrived to see Joseph Alpert, MD, a cardiologist at Banner – University Medical Center Tucson, the blood supply to her heart was compromised almost entirely with only 5 percent of blood flow getting through due to severe blockages in all the heart's main arteries. She initially was seen at an outside hospital where it was recommended that she have open-heart coronary artery bypass surgery. She declined.
Her husband had been a long-time patient of Dr. Alpert's, and Mrs. Martin and her family sought his opinion after being discharged from the other hospital. Mrs. Martin arrived at Dr. Alpert's clinic with active chest pain and shortness of breath, in the midst of a heart attack. After reviewing the films of her heart catheterization, Dr. Alpert immediately called the interventional cardiology team for admission and consideration for a high-risk percutaneous coronary intervention in the catheterization lab.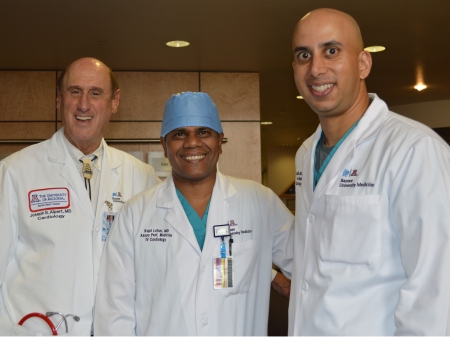 "She was adamant about not having open-heart surgery. Stenting the blockages in her heart would essentially require interrupting all blood flow to the heart muscle. This is an extremely high-risk procedure. When the blood flow is interrupted during the stenting, the heart cannot pump blood to the rest of the body – this is extremely dangerous, especially for the brain," explained Kapil Lotun, MD, director of the Catheterization Laboratory at Banner - University Medical Center Tucson.
"The only option we saw was to provide blood supply to the rest of the body while operating on the heart using the recently acquired TandemLife pump and oxygenator to support her heart and lungs. This would allow a stenting procedure to be performed without having to place the patient on a breathing machine (which she also did not want) and allow for full support of blood pressure while also permitting oxygen delivery to vital organs during the complicated procedure, said Dr. Lotun. He is associate professor of clinical medicine and director of the Interventional Cardiology Fellowship Program, Interventional Cardiology, Structural Heart Disease and Vascular Medicine within the Division of Cardiology and the Sarver Heart Center at the University of Arizona College of Medicine - Tucson.
In December of 2016, Dr. Lotun had performed one of the first percutaneous coronary interventions, or stenting procedures, to be supported by the TandemLife system in the United States, so he was familiar with the capabilities of the device and what it would allow him to do. Dr. Lotun consulted with Ranjith Shetty, MD, assistant professor and interventional cardiologist, who performed the procedure on Mrs. Martin.
The TandemLife support device allows rapid use of a system that can provide the pumping function of the heart and the oxygen delivery of the lungs temporarily while other measures are implemented to stabilize patients. Dr. Lotun was able to use this system during Ms. Martin's procedure to support her body while he operated on the heart through catheters inserted into arteries in her leg.  During the entire procedure, she was sedated but not on a ventilator, and able to wake up and interact with Drs. Shetty and Lotun.
"Two months later, with restored blood flow to my heart, I am going to cardiac rehab three mornings a week, driving again, and able to do the activities I need to do at home. I can look forward to a future I would not have had without this procedure. I am grateful to Dr. Shetty, Dr. Lotun and the BUMC interventional team for their skills, knowledge, experience and use of new technology," said Mrs. Martin.