An Advanced Electrophysiology Cardiac Catheterization Lab opened at the beginning of September. The $4.2 million EP cath lab is equipped with a second c-arm X-ray unit featuring a Philips Azurion image-guided therapy system.
Banner – University Medical Center Tucson is the first hospital in Arizona with this state-of-the-art technology, said Wendy Gonzales, cardiology director, Banner – UMC Tucson and South.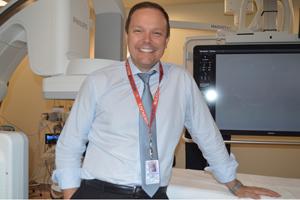 Mathew Hutchinson, MD, professor of medicine and director of the Cardiac Electrophysiology Program at UA Sarver Heart Center championed this project. "The opening of our new state-of-the-art EP laboratory reaffirms BUMC-Tucson's commitment to provide the most innovative and comprehensive cardiac rhythm care for patients in Southern Arizona," Dr. Hutchinson said.
EP faculty will use the new system to conduct routine and complex catheter-based procedures to treat arrhythmias, including atrial fibrillation. These minimally invasive interventions reduce the risks and recovery time of traditional surgical approaches.
Other benefits of this system include high-quality imaging and excellent visibility, low radiation levels to increase safety for patients and physicians, as well as shorter hospital stays without the pain of a large incision and less visible surgical scarring.
For patient referrals, call (520) 694-6156.