Steve Goldman, MD, a highly productive heart research scientist and cardiology professor, was named to fill the C. Leonard Pfeiffer Chair in Cardiovascular Medicine at the University of Arizona Sarver Heart Center. Dr. Goldman most recently co-founded Avery Therapeutics, a company that is transferring technology developed in his lab at Sarver Heart Center for commercial use in patients.
"Dr. Goldman's commitment to advancing translational research that bridges basic science to clinical care, mentoring young scientists and educating medical students, residents and fellows makes him an outstanding fit for the Pfeiffer chair," said Nancy K. Sweitzer, MD, PhD, director of the UA Sarver Heart Center and chief of cardiology.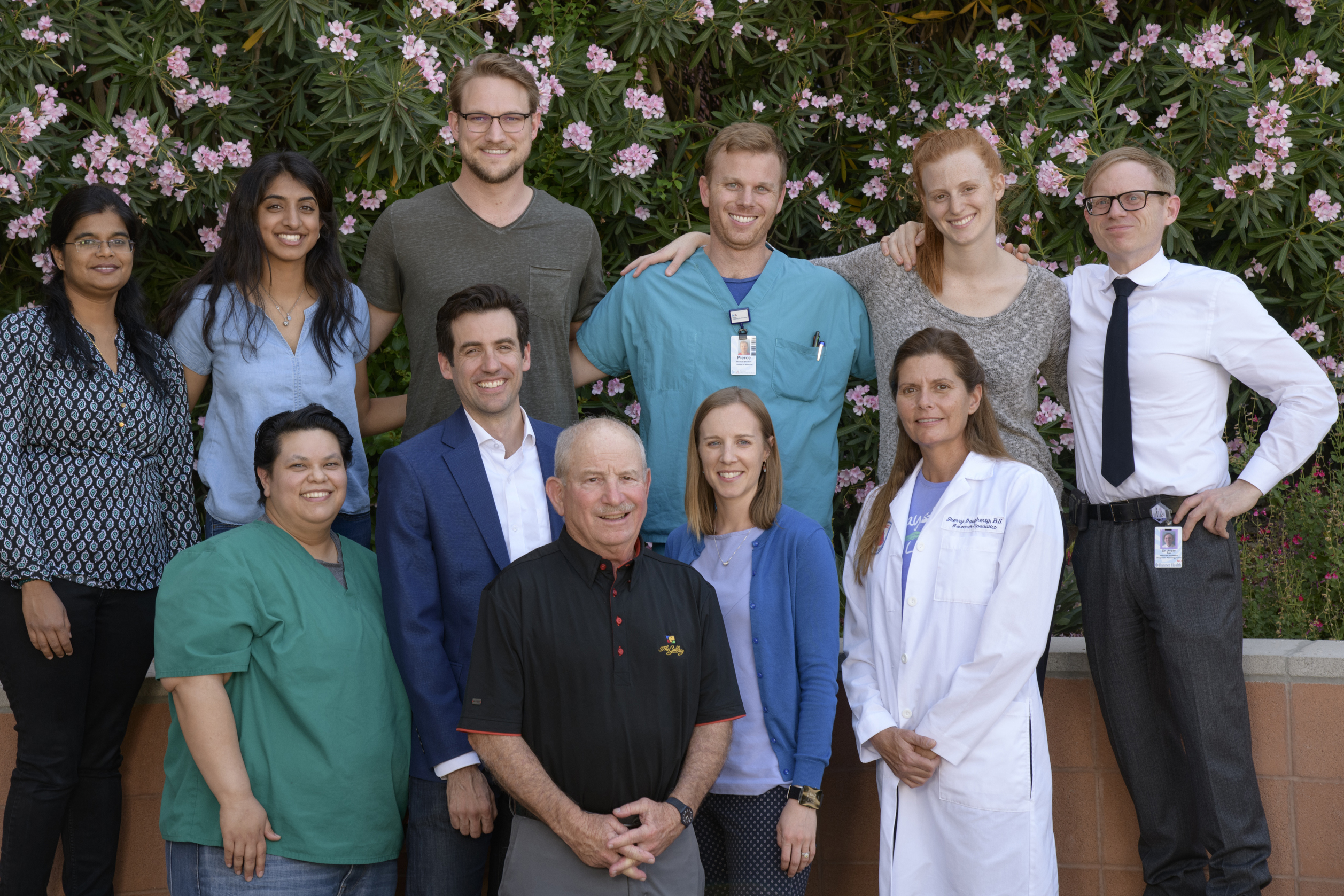 Members of the Goldman-Juneman Lab. (Back row): Danya Pradeep, graduate student; Meghna Jayaraman, undergraduate; Craig Morris, medical student; Pierce Bradley, medical student; Giuliana Repetti, medical student; and Ryan Avery, MD, associate professor, medical imaging. (Front row): Roxanne Garcia, technician; Jordan Lancaster, PhD, assistant research scientist, UA Sarver Heart Center; Steve Goldman, MD, professor of medicine, Division of Cardiology; Jennifer Koevary, PhD, research assistant professor, Department of Biomedical Engineering; and Sherry Daugherty, technician. Not pictured: Elizabeth Juneman, MD, associate professor of medicine, Division of Cardiology; Mary Kaye Pierce, NP; Grace Gorman, research technician; Ike Chinyere, medical student; and Danielle Spencer, undergraduate in biomedical engineering.
A native of Ohio, Dr. Goldman received his undergraduate education at Cornell University and his medical doctorate from The University of Cincinnati Medical School. His residency training was at the University of Illinois, the University of Chicago and Stanford University. He completed his cardiology training at Pacific Medical Center in San Francisco. In 1975, he came to the UA and the Tucson VA, where he was chief of cardiology for 35 years.
"I thank Dr. Frank Marcus who recruited Dr. Eugene (Gene) Morkin to the UA in 1974 to fill the C. Leonard Pfeiffer Endowed Chair of Cardiovascular Medicine, the first endowed chair in the University of Arizona College of Medicine. Dr. Morkin was a friend, mentor, collaborator and a great tennis partner. In our work together, Gene did the biochemistry while I did the physiology, a system that worked well for us. Gene not only tried to teach me how to succeed but also how to stay out of trouble in the world of academic medicine. There are parallels between C. Leonard Pfeiffer and my life; we were both military veterans, he attended the University of Arizona on the GI bill. I was a Navy doc with the Marine Corps in Vietnam and I did my cardiology fellowship on the GI bill," said Dr. Goldman.
For the past 40 years, the Goldman laboratory has focused research on heart failure (HF), its causes and development of new treatments. "As a result, we now have a new way to treat HF using cardiomyocytes derived from induced pluripotent stem cells (iPSC)," said Dr. Goldman.
This research builds on the work of John Gurdon and Shinya Yamanaka who were awarded the Nobel Prize in 2012 for creating iPSCs, showing that adult cells can be reprogrammed to become stem cells capable of being then differentiated into any specific cell-type of interest, no matter what cell type they were when the process started. "The Nobel Prize work provided us with the technology to create new heart cells and use these cells to treat heart failure. We have shown that we can effectively treat heart failure in laboratory models of disease by creating a tissue-engineered cardiac graft composed of specialized cells grown on a matrix," said Dr. Goldman.
In 2014, Dr. Goldman collaborated with Jordan Lancaster, PhD, to co-found a UA biotech spin-off company called Avery Therapeutics to commercialize this work.
His research laboratory has received funding from the Sarver Heart Center, Tech Launch Arizona, the Veterans Administration, National Institutes of Health, American Heart Association, the Arizona Biomedical Research Commission, the biotechnology industry, and private foundations. His laboratory has supported the development of several young investigators.
"The support from the C. Leonard Pfeiffer Chair will allow us to continue our research in regenerative medicine and to support young investigators at the University of Arizona. We are very proud of the collaborative atmosphere in our laboratory, where senior scientists and young students work side-by-side, sharing ideas and doing experiments. We have high school students, university undergraduates, medical students, MD/PhD students, post-doctoral students and professors in the lab. We will use the C. Leonard Pfeiffer funds for their support and the support of new research projects," said Dr. Goldman.
"I am appreciative and humbled to be awarded the C. Leonard Pfeiffer Chair. I want thank Drs. Nancy Sweitzer, Monica Kraft, and Chuck Cairns for supporting my nomination for this award. Most importantly, I appreciate the ongoing support from Dr. Kathy Reed."
C. Leonard Pfeiffer Chair in Cardiovascular Medicine: Advancing Innovation for 44 Years
The Pfeiffer endowed chair was the first established at the UA College of Medicine, in memory of C. Leonard Pfeiffer, who earned his bachelor's degree in 1940 and his master's in 1948 at the UA. Mr. Pfeiffer started his philanthropic support of the UA in 1946 when he established the C. Leonard Pfeiffer Collection of Contemporary American Art at the UA Museum of Art.
The Pfeiffer Research Foundation was established by his uncle and aunt, Gustavus and Louise Pfeiffer, in 1942, "to improve public health through the advancement of medicine and pharmacy." In 1972, the foundation presented Dr. Frank Marcus, then chief of cardiology, a check to establish the chair in cardiology.
Great progress has resulted from this permanent endowment in memory of C. Leonard Pfeiffer. The interest income from the endowment first supported the research program of Dr. Eugene Morkin, who was recruited to the UA in 1974 from Beth Israel Hospital in Boston and Harvard University as the first holder of the C. Leonard Pfeiffer Chair of Cardiovascular Medicine.
Now, with the appointment of Dr. Steve Goldman as the Pfeiffer chair, the legacies of Mr. Pfeiffer and Dr. Morkin live on.