The University of Arizona Sarver Heart Center and Banner – University Medical Center Tucson welcomed Rupa Bala, MD, to the cardiovascular medicine team.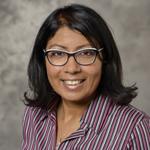 Dr. Bala, board certified in clinical cardiac electrophysiology and cardiovascular disease, joined the University of Arizona College of Medicine - Tucson, Division of Cardiology as an associate professor and cardiac electrophysiology specialist. She specializes in the management of complex heart arrhythmias, including atrial fibrillation, ventricular tachycardia and premature ventricular contractions. Dr. Bala also will serve as director of the cardiac electrophysiology laboratory at Banner - University Medical Center Tucson.
Dr. Bala's clinical and research interests are based on the ablation of complex arrhythmias, including ventricular tachycardia in structural heart disease and idiopathic premature ventricular contractions, a condition in which the heart "skips a beat" and may cause a fluttering sensation. She has authored or co-authored more than 60 research publications.
Dr. Bala comes to the University of Arizona from Oregon Health and Sciences University where she was an associate professor of medicine and director of complex ablation in the Department of Electrophysiology in the Knight Cardiovascular Institute. Prior to this position, she served as an assistant professor of medicine at the University of Pennsylvania Perelman School of Medicine for eight years. She completed her medical degree at Georgetown University School of Medicine and her medical residency at University of Chicago Medical Center. Dr. Bala completed her cardiology and electrophysiology fellowships at the Hospital of the University of Pennsylvania.
"Besides Dr. Bala's expertise in electrophysiology, she adds her talent to our educational and research efforts as we focus on growing cardiovascular medicine services to address the approaching heart disease epidemic as the last-born of the baby boomers approach age 65," said Nancy K. Sweitzer, MD, PhD, director of the UA Sarver Heart Center and chief of cardiology. (Read more about UA Sarver Heart Center's plans.)
The University of Arizona Sarver Heart Center's 150 members include faculty from cardiology, cardiothoracic surgery, pediatric cardiology, neurology, vascular surgery, radiology, endocrinology, emergency medicine, nursing, pharmacy and basic sciences. The UA Sarver Heart Center emphasizes a highly collaborative research environment, fostering innovative translational or "bench-to-bedside" research and working toward a future free of heart disease and stroke. If you would like to give permission for Sarver Heart Center to contact you about heart research studies, please complete a Cardiology Research Registry Information Form. The academic mission of the Sarver Heart Center encompasses for fellowship programs in cardiovascular disease, interventional cardiology, advanced heart failure and transplant cardiology, and electrophysiology.
About Banner – University Medical Center Tucson and South
Banner – University Medical Center Tucson and Banner – University Medical Center South are part of Banner – University Medicine, a premier academic medical network. These institutions are academic medical centers for the University of Arizona College of Medicine in Tucson. The two academic medical centers are part of Banner Health, one of the largest nonprofit health-care systems in the country. Banner Health is in six states: Arizona, California, Colorado, Nebraska, Nevada and Wyoming. For more information, visit www.BannerHealth.com/UniversityTucson or www.bannerhealth.com/UniversitySouth