By: David A. Bull, MD, Division Chief, Cardiothoracic Surgery, Department of Surgery
Have you gotten your flu shot yet?
It's not too late to heed the pervasive public health campaigns: not only does getting a flu shot significantly decrease your chance of contracting the flu, but it protects others around you from infection as well.
If that weren't reason enough to get a flu shot, here's one more. Did you know that vaccination could potentially reduce the risk of a silent killer?
Although the correlation isn't yet clearly understood, recent research has shown that aortic aneurysm ruptures often closely follow a bout of flu.1
Aortic aneurysms occur when the wall of the aorta (the largest artery in the heart and the body as a whole) weakens, causing it to bulge or become enlarged. This type of aneurysm can affect both the abdominal and thoracic part of the aorta, with thoracic localization being the more common of the two.
While relatively rare (affecting only about 3.5 (in the chest) – 9 (in abdomen) per every 100,000 people2), aortic aneurysms deserve attention because they are often so serious, as patients generally do not know they have one until an emergency event, such as a tear or rupture, occurs. That means aortic aneurysms can quickly spiral from a highly treatable condition into a life-or-death situation, significantly increasing, length of hospital stay, recovery time, related costs, and the risk of death.
Since people with aneurysms rarely display symptoms, detection typically evades preventative health screenings in primary care settings. If detected at an earlier stage, it's usually because the aneurysm occurs in conjunction with a valve condition or another heart condition and is picked up by a cardiologist during echocardiography.
The most effective way to treat aortic aneurysms before they become a critical problem is to encourage patients with significant risk factors to electively seek out screening. Aortic aneurysms most commonly occur in men in their 60s, 70s, and 80s but can affect those as young as 20 or 30 if linked to a congenital condition, such as Marfan syndrome. Guidelines suggest abdominal ultrasound screening for all men between the ages of 60-65 to minimize the severity of potential complications.3 While those patients with congenital conditions may receive more medical attention early on in life, they should also ensure they're being closely monitored for aneurysms throughout their lifespans.
Along with age, gender, and congenital conditions, there are quite a few other risk factors that increase the probability of aortic aneurysm. Those who fit one or more of the following criteria may also want to consider screening:
Family history of aneurysm
Hypertension
Obesity
A history of smoking
Valve disease (heart murmur)
Bicuspid valve
Other congenital heart conditions
A history of recurring upper respiratory infections
Aneurysm osteoarthritis4
If aortic aneurysms are small and detected early, medicine can prevent or slow down growth and reduce the risk of tear or rupture. Blood pressure medications, beta blockers, and calcium channel blockers are the most common medicinal treatments. Otherwise, elective surgery can repair the aneurysm. The good news is that outcomes are promising if the aneurysm is corrected before it becomes emergent.[2]
While aortic aneurysms are rare, they can be life-threatening if left untreated. Getting a flu shot is one quick and easy way to reduce your risk and increase your chances of a long, happy, and healthy life. So, why not?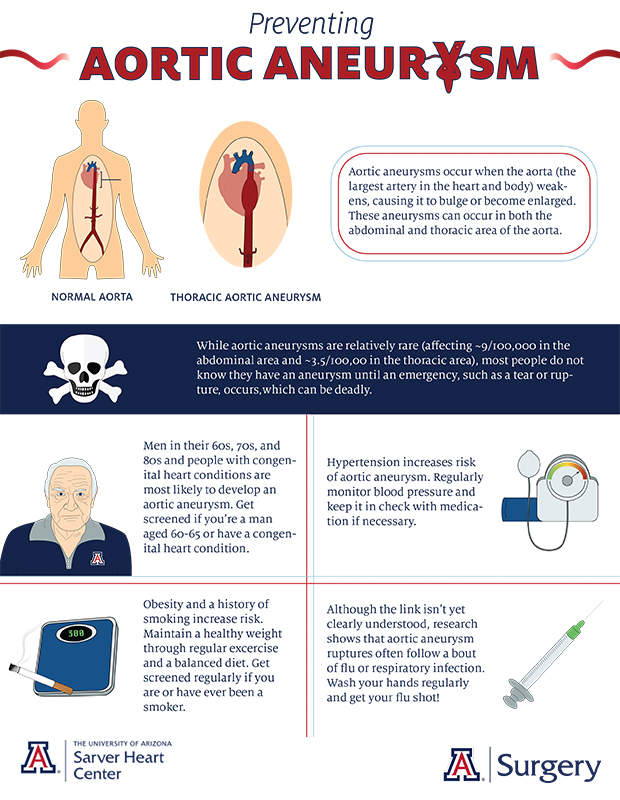 Sources:
[1] https://www.cdc.gov/dhdsp/data_statistics/fact_sheets/fs_aortic_aneurysm...
[2] https://www.nhlbi.nih.gov/health-topics/aneurysm
[3] https://www.cdc.gov/flu/heartdisease/index.htm
[4] https://www.uptodate.com/contents/epidemiology-risk-factors-pathogenesis...