The Arizona Board of Regents appointed Marvin Slepian, MD, a Regents' Professor April 11, a title awarded to full professors who have the most distinguished accomplishments in teaching, scholarship, research or creative work. These prestigious appointments are limited to no more than 3 percent of the university's tenured and tenure-track faculty members.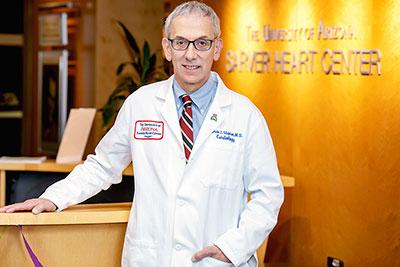 A professor of medicine, cardiology and medical imaging, Dr. Slepian is a noted cardiologist, inventor, entrepreneur, innovator and educator. He also is associate head of the UA Department of Biomedical Engineering, professor of materials science and engineering and a member of the UA Sarver Heart Center and the UA BIO5 Institute. He founded and directs the Arizona Center for Accelerated Biomedical Innovation (ACABI), a university-wide "creativity engine," or "inventor's workshop," that helps faculty members and students identify unmet needs and address them, said Michael Dake, MD, senior vice president, UA Health Sciences.
His translational work has resulted in novel therapeutic solutions, including stent coatings, polymer paving, synthetic tissue and cardiovascular prosthetic devices, including the total artificial heart, to name a few.
More Recognitions
The UA College of Engineering named Dr. Slepian a DaVinci Fellow in April. The award recognizes talented and resourceful faculty and provides a one-time grant of $10,000. Dr. Slepian plans to use the funds to support student research in his lab. Watch Dr. Slepian's DaVinci Award video. 
Dr. Slepian also received the Daniel Drake Award from his medical school, the University of Cincinnati College of Medicine. The award honors distinguished alumni.
Dr. Slepian's recent research has been published in Nature, highlighted by National Institutes of Health and featured in a video produced by University of Arizona Health Sciences. He also co-chaired the International Forum on Virtual Reality and Health Care held at the UA in March.
Also watch, "Monitoring Blood Pressure with Wearable Technology."