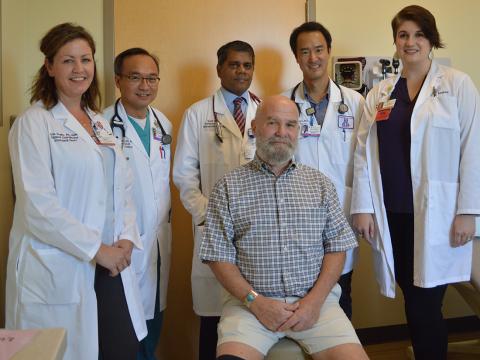 Most patients with heart valve disease now may be candidates for the transcatheter aortic valve replacement (TAVR) procedure as an alternative to open-heart surgery. In August 2019, the Food and Drug Administration expanded the eligibility criteria to patients who are at low risk for major complications associated with open-heart surgery. Previously the FDA approved TAVR devices only for patients evaluated as medium or high risk for surgery. 
"The technology for transcatheter valve replacement continues to advance, allowing more and more valves to be replaced less invasively," said Kapil Lotun, MD, professor of medicine and director of the Structural Heart Disease Program at UA Sarver Heart Center.
A Family History
Chip Rock was the first low-risk patient in line for a TAVR procedure at Banner – University Medical Center Tucson. Earlier in the summer he was scheduled for knee-replacement surgery and his doctor sent him for a standard anesthesiology clearance. That triggered  a referral to a cardiologist who diagnosed aortic stenosis and recommended a heart-valve replacement. 
Chip considered his mother's experience. At age 92, was one of the first TAVR patients in February 2014, when the UA Sarver Heart Center Structural Heart Team offered the procedure only for high-risk patients. "My mother did well for several years after her procedure, so when I learned I needed a valve replacement, I contacted Dr. Lotun," Chip said.
At age 66, Chip was considered low-risk for surgery, but Dr. Lotun advised him that the FDA was likely to expand the eligibility criteria soon. Chip decided it would be worthwhile to wait for TAVR, even though that meant postponing his knee-replacement surgery to avoid open-heart surgery.
"Now I'd like to find a knee-replacement procedure that was as easy on me as this heart procedure has been," said Chip. He came in for his post-surgery follow-up appointment 11 days after the TAVR procedure and proceeded with the golf game he scheduled for the next day.
Since the UA Sarver Heart Center's Structural Heart Disease team started offering the TAVR procedure in 2012, about 417 patients have benefited from this advance that requires a small incision in the groin to implant a new valve via catheter. Most patients return home the following day and recover more quickly than patients who undergo open-heart surgery.
For more information or to refer a patient, contact: (520) 694-8578 • BUMCTStructuralHeart@bannerhealth.com • Visit the Heart Valve Disease page.