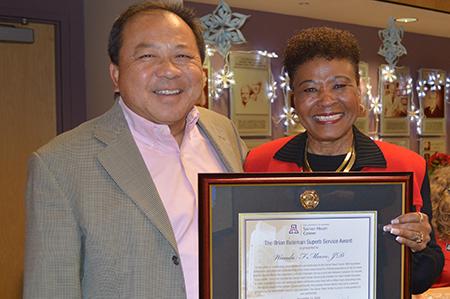 Wanda F. Moore is the 2019 recipient of the Brian Bateman Superb Service Award. Ms. Moore, who serves as chair of the University of Arizona Sarver Heart Center Minority Outreach Program, was recognized for her many years of outstanding vision, leadership and dedication to the Sarver Heart Center. "Wanda contributes boundless enthusiasm and advanced understanding of the many issues faced by minority populations at risk for heart disease," said Nancy K. Sweitzer, MD, PhD, director, Sarver Heart Center. "Wanda assumed a critically important role as a local and national chamption for minority heart health," added Dr. Sweitzer who also is chief of cardiology and professor of medicine at the UArizona College of Medicine - Tucson. 
Ms. Moore also serves on the Sarver Heart Center Board and is co-chair of the Women's Heart Health Education Committee. Since she founded the Community Coalition for Heart Health Education in 2009, volunteers under her leadership have contributed more than a half million hours educating more than 6,000 people in the Tucson community. "Her purpose-driven efforts have led to continual philanthropy for heart health research and education," said Dr. Sweitzer.
"Wanda Moore embodies what it means to be of superb service. From her community, to her family, to the Sarver Heart Center, Wanda does not give anything less than her entire self to those she cares about. Through her leadership and service, thousands of people in Tucson have been trained to save a life through continuous-chest-compression CPR. Through her service, hundreds of women have been empowered to take control of their heart health. Through her service, tens of thousands of dollars have been raised for research in the area of heart disease in women of color," wrote Clint McCall in his nomination letter. McCall, currently vice president of principal gifts and campaigns for the UArizona Foundation, worked with Ms. Moore extensively when he was senior director of development for Sarver Heart Center.