Sarver Heart Center physician scientist receives international award to advance research on health disparities in cardiovascular disease. The focus of the Women as One organization is to advance the careers of women cardiologists.
Tucson, Ariz. March 6, 2020 -- Khadijah Breathett, MD, MS, assistant professor of medicine in the University of Arizona College of Medicine – Tucson, Division of Cardiology, was one of five physicians selected to receive a Women as One Escalator Award. Dr. Breathett, a member of UArizona Sarver Heart Center, is a board-certified advanced heart failure and transplant cardiologist whose research focuses on racial/ethnic and gender disparities in cardiovascular disease.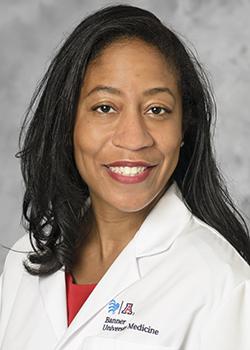 "I am grateful for the honor of receiving this inaugural award, and thankful for the support of my mentors and institution. I will use this award to advance my research agenda in reducing bias in the allocation of advanced heart therapies, strengthen international research collaborations, and support the careers of my mentees in cardiovascular medicine," said Dr. Breathett.
Women as One was founded in 2018 to broaden and promote the global talent pool in medicine by providing unique professional opportunities to female cardiologists. The Women as One Escalator Awards program is a year-long award aimed at quickly and effectively catalyzing the careers of qualified women physicians by providing clinical and leadership skills training, research support, speaking opportunities and a cadre of key professional contacts of use in furthering their career. Winners also receive a $50,000 award. The review panel was made up of eight senior physicians from Africa, Asia, Europe, North and South America. A total of only five winners were selected from 70 global applicants.
"Women As One is a highly impactful organization laser focused on attracting women to careers in cardiology, and helping all women cardiologists thrive personally and professionally.  I expect the Escalator Awards to be highly impactful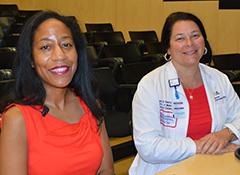 catalysts for women to positions of leadership in our profession.  For one of the five awards given this year to come to Dr. Breathett and the University of Arizona is recognition of the environment we have built her in which women can thrive and talented scientists such as Dr. Breathett can make rapid and important strides to change the lives of patients with cardiovascular disease, said Nancy K. Sweitzer, MD, PhD, director of Sarver Heart Center and chief of cardiology at the College of Medicine - Tucson. 
"I have been a Women As One member since 2018, have enormous admiration for Dr. Mehran's passion to this cause, and was delighted to see Dr. Breathett receive this important award," added Dr. Sweitzer.
After selecting the winners, Women as One co-founder Roxana Mehran, MD, stated, "We were and continue to be amazed by the incredible talent of women in cardiology around the world, and are truly humbled by the interest in this award. To us it signified a huge global need for training, mentorship and substantial opportunities for women in cardiology and we are now more motivated than ever to see these opportunities become realities." 
A central part of Women as One is its talent directory, which allows women in medicine from around the world to set up a professional profile that includes details about their experience, interests and demographics. This information is then used to increase visibility and match skills with opportunity. Fo more information about the awards and Women as One, please visit www.womenasone.org.
Related content: Read Dr. Nancy Sweitzer's message on women in cardiology.