Maryam Hosseini, MD, a second-year internal medicine resident, was selected as the 2020 recipient of the Charles W. Hall Jr. and Virginia C. Hall Memorial Award.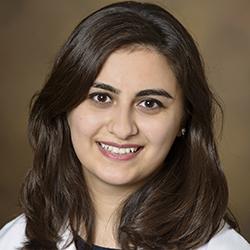 "I feel so honored and truly thank my amazing mentors on Cardiac Care Unit for this. I've learned a lot on my CCU and heart failure rotations and winning this award motivates me to continue to learn more and work harder on becoming not only the best physician I can be, but also the best team member I can be," said Dr. Hosseini, who is Dr. Hosseini is a resident at the University of Arizona College of Medicine – Tucson, Department of Medicine, Banner – University Medical Center Tucson.
"The world's modern medicine is greatly dependent on teamwork and Charles W. Hall Jr. and Virginia C. Hall Memorial Award, which has family roots, highlights the importance of teamwork. I'm inspired to practice teamwork skills in addition to medicine skills to better care for my future patients," Dr Hosseini added.
Her interest in cardiology developed during high school when she began to study hypertrophic cardiomyopathy. This research focus continued during her undergraduate studies at University of California, Davis, where one of her research mentors was Samantha Harris, PhD, now a professor of cellular and molecular medicine and member of the Sarver Heart Center at the UArizona College of Medicine – Tucson.
During medical school, Dr. Hosseini collaborated with classmates to start the Cardiology Club. She also worked with research mentor, Ankit Desai, MD, PhD, focusing on genetic admixture and survival in diverse populations with pulmonary arterial hypertension, published in the American Journal of Respiratory and Critical Care Medicine, January 2020.
As a resident physician, she is part of the research team of Khadijah Breathett, MD, MS. "We are very proud of Dr. Hosseini! Along with Erika Yee, BS, and Bianca Duarte, BS, she evaluated gender disparities in transplant donation," Dr. Breathett said. The work was recognized as a top abstract at the American Heart Association Quality of Care and Outcomes Research Scientific Sessions. "These women are poised to do great things in the field of cardiology," Dr. Breathett added. #WomenInCardiology
"I've been interested in cardiology since as long as I remember. My interest in cardiology has only grown over the last couple years throughout my residency training due to having the opportunity to meet and learn from amazing mentors," Dr. Hosseini said.
About the Hall Award
Mr. Charles W. Hall Jr. was a businessman from Illinois whose children are all UArizona Alumni. He was an active lobbyist for building the medical school in Tucson. The Charles W. Hall Jr. and Virginia C. Hall Memorial Endowment Award was established through an effort led by his son and bolstered by their family and friends.
This endowment was established at the Sarver Heart Center to inspire and reward the most outstanding residents based on their performance and excellence in the Cardiac Care Unit.