Catherine Foley Jerman, MD, and Akshay Roy-Chaudhury, MD, are the 2020 recipients of the Zenas B. Noon Award for Excellence in Cardiology from the University of Arizona Sarver Heart Center. Both new physicians are 2020 graduates of the UArizona College of Medicine – Tucson.
Graduating with distinction in research, Dr. Jerman worked on projects focusing on mechanisms and modulation of platelet activation in the lab of Marvin J. Slepian, MD.  She leaves to complete her residency in anesthesiology at Massachusetts General Hospital in Boston.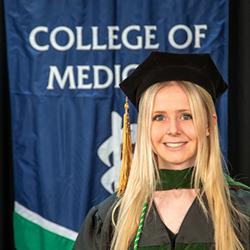 "I am humbled to have been chosen as a Noon award recipient. Many of my most meaningful learning experiences during medical school, both personal and professional at the bench and at the bedside, occurred while working under the Sarver Heart Center cardiologists. I hope to emulate these physicians as I continue my training, Dr. Jerman said. "Cardiology holds a special place in my heart and I hope to continue applying cardiovascular physiology to patient care while completing fellowships in cardiac anesthesia and intensive care medicine in the future," she added.
"Catie was a superb student and great addition to the lab.  She 'got it' in terms of seeing the value of synthesizing existing medical knowledge and facts with research, and the importance of asking questions to push the edge. She directly addressed basic mechanisms of thrombosis and opened up a new path of research related to the role of sound - particularly snoring – as a driver of blood clot formation. This work is extremely novel in that it connects snoring and obstructive sleep apnea with cardiovascular disease and stroke," Dr. Slepian said. 
"She was a team player and a positive role model to other med students, and undergraduates in particular, sparking their interest and launching them in the lab as well. She has what it takes to be a leader in academic medicine and we are proud of her accomplishments. We will be following her career closely," Dr. Slepian added.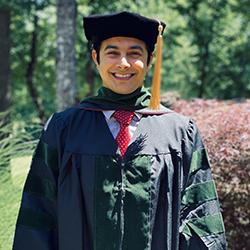 Dr. Roy-Chaudhury, will begin an internal medicine residency at the University of North Carolina Hospitals. "I have an interest in cardiology and I'm looking forward to gaining more experience in cardiology during my internal medicine residency at UNC," said Dr. Roy-Chaudhury.
He was involved in research all throughout medical school with Jarrod Mosier, MD, associate professor of emergency and internal medicine who specializes in pulmonary critical care. "Most of our research was focused on the impact of point-of-care ultrasound on outcomes in critically ill patients. I was lucky enough to present my research at the 2018 Society of Critical Care Medicine as well as the 2018 Western Medical Research Conference," said Dr. Roy-Chaudhury.  He also was co-author on a paper published in Critical Care Explorations, the Society of Critical Care Medicine's online peer-reviewed journal.
"It's a great honor to receive this award as well as learn about Dr. Noon and all of the things he accomplished during a storied career. I hope to emulate some of the ideals he represented during my own career," said Dr. Roy-Chaudhury.
About the Noon Award
Zenas Barnard Noon was born in Nogales, Arizona in May of 1905.  After attending the University of Arizona, Dr. Noon graduated from the Medical College of Virginia in 1930.  Dr. Noon attended school during the depression and his means of self-financial aid was to play the saxophone and clarinet in a band on nights and weekends.  He served his medical internship at the University of Michigan, studied postgraduate surgery at Johns Hopkins University and the University of Pennsylvania.
He completed his training in 1933 and accepted a position as Medical Director of the Federal Emergency Relief Administration Transient Camp in Nogales, AZ where he also established a private practice.  While he tried to limit his work to surgery, the economic conditions of the time demanded he also practice general medicine.  He was the only surgeon in Nogales for 35 years except for the 4 years he was on active duty during World War II with the U.S. Army Medical Corp as an orthopedic surgeon.
Dr. Noon was active as a member of the AMA, Arizona Medical Association, Santa Cruz County Medical Society, State Board of Medical Examiners and the Arizona Industrial Commission Review Board.  He was a physician for the Nogales Volunteer Fire Department and an active member of the Nogales Lions Club and Elks Lodge.
Dr. Noon was a devoted family man.  He and his wife, Mary, had six children, all of whom attended the University of Arizona.  His son, George, is a cardiovascular surgeon and holds the Meyer-DeBakey Chair in Investigative Surgery at Baylor College of Medicine in Houston, Texas.
Dr. Noon suffered a heart attack in 1971 and decided to give up his surgical practice and broaden his general practice.  After his heart attack, he finally began to take the vacations he so often prescribed to his patients.  Dr. Noon died suddenly in 1981 while on safari with his wife, son and daughter-in-law.  The family is thankful for the excellent care Dr. Noon received from the members of the Cardiology Division at the University Hospital in 1971, subsequently they generously set up the Zenas B. Noon Award for Excellence in Cardiology Award.