The structural heart and valve program at University of Arizona Sarver Heart Center and Banner - University Medical Center Tucson is one of the oldest in the state with the first transcatheter aortic valve replacement (TAVR) performed here in 2012. The team has always been a multi-disciplinary team of interventional cardiologists, cardiac imaging specialists, cardiothoracic surgeons, nurse practitioners, nurses, and medical assistants who work to provide comprehensive care to patients. Under the new leadership of Arka Chatterjee, MD, the depth, scope and collaboration of the team has grown tremendously.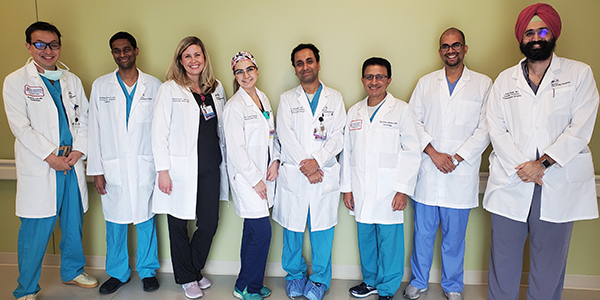 Members of the Structural Heart Team include (from left): Kwan Lee, MD, Madhan Sundaram, MD, Allison Klatt, MSN, FNP, Isabel Corres-Sohrab, RN, BSN, Arka Chatterjee, MD, Raj Janardhanan, MD, Tushar Acharya, MD, MPH, Amitoj Singh, MD. (Not pictured: Deepak Acharya, MD, MSPH, Toshinobu Kazui, MD, PhD, Michael Seckeler, MD, MSc, and Kavitha Yaddanapudi, MD)
Structural heart problems involve heart valves and the walls and chambers of the heart.  Structural heart problems may be present at birth (congenital), develop naturally throughout adulthood, or may be due to a disease process, such as heart attacks or heart failure. Most structural heart conditions have been traditionally treated with open heart operations, but advances in structural heart disease make it possible now to treat many of these problems with minimally invasive approaches. The Structural Heart Team includes both adult and pediatric practitioners with unique expertise in minimally invasive approaches.
The Structural Heart Team team provides a catalogue of procedures, including transcatheter aortic valve replacements (TAVR), mitral valve replacements and MitraClips to treat aortic valve and mitral valve diseases.  Other transcatheter procedures the team offers are:
Patent foraman ovale closures
Atrial and ventricular septal closures
Paravalvular leak closures
Left atrial appendage occlusions
Pulmonary arteriovenous malformations (AVM) embolizations
AngioVac procedures that can remove arterial thrombi and valvular vegetations (endocarditis)
"Besides our interventional cardiology expertise, we also are the only center in Tucson and neighboring areas to provide the full complement of advanced heart failure options including durable mechanical circulatory support, which some patients need. Our team includes a board-certified adult congenital interventional cardiologist, one of two in Arizona and the only one in the Tucson area," said Dr. Chatterjee, associate professor of medicine and associate director of the Structural Heart Program.
"In addition to the team's expertise in coronary and peripheral interventions, and minimally invasive valve replacement, with Dr. Chatterjee's leadership, they will expand the research offerings of the Sarver Heart Center bringing new devices and minimally invasive therapies to Tucson. This will allow us to bring the latest advances in heart disease treatment to the people of Southern Arizona," said Nancy K. Sweitzer, MD, PhD, Sarver Heart Center director and cardiology chief. Dr. Chatterjee shares program leadership with Kazui Toshinobu, MD, PhD, a cardiothoracic surgeon.
To learn about clinical research at Sarver Heart Center, please visit the Clinical Research Program and complete a Clinical Research Registry form to give staff permission to contact you.
Program Directors
Arka Chatterjee, MD
Toshinobu Kazui, MD, PhD
Adult Interventional Cardiologists
Deepak Acharya, MD, MSPH
Kwan Lee, MD
Madhan Sundaram, MD
Pediatric and Adult Congenital Interventional Cardiologist
Michael Seckeler, MD, MSc
Imaging Specialists
Tushar Acharya, MD, MPH
Raj Janardhanan, MD
Amitoj Singh, MD
Kavitha Yaddanapudi, MD
Advanced Practice Provider
Allison Klatt, MSN, FNP-BC, Structural Heart Nurse Practitioner
Program Coordinator
Isabel Corres-Sohrab, RN, BSN
Learn more at Structural Heart Program
Contact Structural Heart and Heart Valve Disease 
Adult Cardiology Team
Phone number: 520-694-6190 • Fax: 520-694-1007
Pediatric and Congenital Heart 
Phone: 520-694-KIDS (5497) • Fax: 520-874-7070
Locations: Banner - University Medicine North and procedures at Banner - University Medical Center Tucson. 
TAVR Patient Keeps Rolling
Since he was age 45, Bill Fenton's doctors were aware he had a "heart murmur," a congenital condition that caused his heart sound to go "woosh," instead of "lub dub." After age 60, his doctor started monitoring his condition with echocardiograms. A certified public accountant who splits his residences between Massachusetts and Tucson, Bill asked his friend, Barry Pomerantz, MD, (a retired physician and Sarver Heart Center board member), who he should see for ECHOs in Tucson. Since Bill is an avid bicyclist, it made sense that Dr. Pomerantz would refer him to Charles Katzenberg, MD, another avid cyclist who has since retired.
Now, Bill's cardiologist is Tushar Acharya, MD, MPH, a cardiovascular imaging expert who is part of the Structural Heart team. This past summer, Dr. Acharya informed Bill that his aortic valve was closed. "I just rode my bike 50 miles. How could this be?" Bill asked. In evaluating Bill for a minimally invasive valve replacement procedure (TAVR) versus open heart surgery, the Structural Heart team discovered Bill had a tumor on a kidney. "This made me a candidate for TAVR. I had two surgeries in 26 days – TAVR at the end of July and kidney removal at the end of August. Fortunately, the cancer was removed and I'm back to my normal activities," said Bill who will turn 71 soon. He averages 400 miles a month on his bicycle and is tracking 4,000 miles for the year despite his rough stretch during the summer.
These sudden health alarms reminded Bill to not take anything for granted. "Don't buy green bananas. You don't know if you'll be around for them to ripen," said Bill, although he continues to ride on.
Dana McCune – MitraClip patient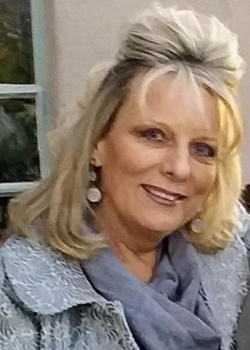 Dana McCune wasn't feeling great, but like too many women, she left work midday in 2019 to meet her husband for his cardiology appointment. When she mentioned to the doctor that she didn't feel well and asked him to listen to her heart, he told her to check in at the front desk to register as a new patient. Instead, she went home with her husband. "I took a nap and around 7 p.m. had difficulty breathing. My husband drove me to St. Joseph's, the closest hospital. I coded when he pulled up to the emergency entrance," said Dana. She was in cardiac arrest.
Fortunately, her husband flagged emergency responders who worked to resuscitate her. Unable to determine the cause of her heart attack, she was transferred to Banner – University Medical Center Tucson for a cardiac MRI. Stress was the likely cause. Dana also has a complicated health history that included Hodgkins Disease, age 27, that involved radiation therapy, breast cancer that led to a double mastectomy, and now, polycystic kidney and liver disease.
"I was hoping to get on the kidney transplant list to treat this inherited condition," said Dana. However, a year after her heart attack, the Structural Heart Team detected her mitral valve was leaking and she was a candidate for the MitraClip procedure, implanted by Dr. Arka Chatterjee. She spent a night in the hospital and now is breathing easier since her mitral valve leak has been reduced from severe to minimal. "I also have pulmonary edema. Between a CPAP machine for sleeping and the medical management of my heart condition, I'm hoping to talk to my doctor about getting on the kidney transplant list now," said Dana.
"I'm so happy with the care I received, particularly from Allison Klatt (MSN, FNP). She's awesome and so responsive. She answered all of my questions."