Throughout the summer, students at all levels of education who are affiliated with Sarver Heart Center worked virtually for the most part to develop their knowledge and interests in science and medicine.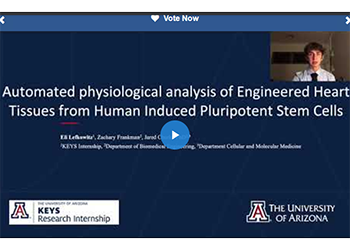 Eli Lefkowitz, a Catalina Foothills High School senior in Tucson, completed a KEYS Research Internship under the mentorship of Jared Churko, PhD, assistant professor, cellular and molecular medicine, and director of the University of Arizona iPSC Core in Sarver Heart Center. The project titled, "Automated physiological analysis of Engineered Heart Tissues from Human Induced Pluripotent Stem Cells," they developed a software to quantify cardiac physiological parameters (peak amplitude, peak duration, and faster rising rate) in an automated and highly accurate manner. The goal is to use the software to understand how mutations lead to cardiovascular disease.
BIO5 Institute's KEYS (Keep Engaging Youth in Science) Research Internship Program offers a unique summer opportunity for motivated Arizona high school students with a strong interest in bioscience, engineering, environmental health, data science and biostatistics to work with top University of Arizona faculty on research projects that address the world's greatest challenges.
Natalia De La Vina, a junior at the University of Arizona double-majoring in neuroscience and spanish, works in the Goldman Lab on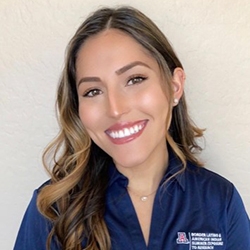 pressure-volume loops, a diagnostic tool to evaluate left ventricular function in heart failure. 
This summer she was selected to participate in the BLAISER Program (Border Latino and American Indian Summer Exposure to Research). The ten-week program addresses health disparities by helping undergraduate students from underrepresented backgrounds to become more competitive medical school applicants. The program covers graduate test preparation; individual workshop sessions to prepare for interviews; professional feedback on personal statements; and exposure to cutting-edge research to create a research poster with mentors. Working with Steven Goldman, MD, Natalia completed a poster, "Assessment of Myocardial Infarct Sizing Effects on Left-ventricle Pressure Volume Loops in Swine."
Born in Scottsdale to parents from La Paz, Bolivia, she lived in Bolivia nearly every summer from eight months old until age 16. Fluent in Spanish and growing up in two different countries allowed her to see vast differences and volunteer with many medical-related programs.
"These past few months have been difficult for everyone, but it has taught many how to be adaptable. I do not mind taking classes online because I know it shouldn't stop me from pursuing my dreams. Instead, I decided to grow from this rare experience and used the extra time to keep myself involved with volunteering and exploring new passions (i.e. running, making sushi, embroidering, jumping rope)."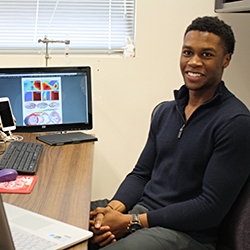 Dr. Goldman and UArizona MD/PhD student Ike Chinyere participated in the Faculty Industry Networking Event (FINE) co-hosted virtually by BIO5 Institute and Biotechnology Industry Organization of Southern Arizona (BIOSA) in August.
Chinyere discussed his experience in Tech Launch Arizona's (TLA) Student Entrepreneurial Fellowship Program. By working with two UArizona start-ups, he gained first-hand insight into the process by which new products are brought to market, supporting his ultimate career goal to practice cardiology and perform translational cardiovascular research as a physician-scientist.
"Being an entrepreneurial fellow in Tech Launch Arizona has given me firsthand experience on how inventions and techniques developed in a university setting can be commercialized to make a real-world impact," Ike said. 
Although not an official UArizona program, Tanya Sandhu, a junior who works in the Goldman Lab, is a founder, along with her brother Sameer Sandhu,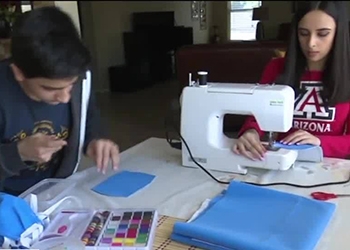 of the Tucson Mask Project, a service program comprised by a number of UArizona students who work together to make masks for first responders, tutor students (K-12) and deliver groceries to people who have a compromised immune system.
"All of our services are completely volunteer-based and free," said Tanya. She encourages everyone who knows how to sew to get involved.
As a physiology major working in the Goldman Lab, Tanya statistically analyzes activity levels and quality of life in a lab model with atrial fibrillation that is treated with a bioengineered graft of healthy cardiomyocytes.