While a clear link exists between COVID-19 and heart disease, doctors continue to study and learn as more data are available from hot spots, such as Italy, New York, Louisiana and China. Not all connections are understood. University of Arizona Sarver Heart Center Director Nancy Sweitzer, MD, PhD, outlined what we know.
At this time, patients with high blood pressure, high cholesterol, coronary artery disease, atrial fibrillation and stroke seem to be susceptible to COVID-19 infection and at higher risk for related medical complications. Obesity, smoking and diabetes also increase risks, whether or not a person has heart disease.
Sometimes otherwise healthy people who are infected with COVID-19 develop heart conditions, such as dangerous arrhythmias or heart muscle damage. "This is typically when the infection is severe. These heart conditions do not seem to develop in patients with mild COVID-19 infections," said Dr. Sweitzer. 
People taking medications for heart conditions should continue to take their medications to prevent heart attacks or strokes.  "While some theoretical concerns were raised about commonly prescribed drugs for high blood pressure, data at this point do not support these theories," said Dr. Sweitzer. She cites a study of 1,128 patients with high blood pressure and COVID-19 infection published in Circulation: Research (April 24, 2020). The data show that hospitalized patients with COVID-19 had a lower risk of all-cause mortality when high-blood pressure treatment with angiotensin blocking drugs was continued, compared with patients with high blood pressure treated with other blood pressure medications during hospitalization.
"These preliminary data reinforce how important it is to remember how harmful unsubstantiated rumors may be and the value of making decisions based on good, peer-reviewed data, particularly at a time when learning coincides so simultaneously with care of patients during a pandemic," said Dr. Sweitzer.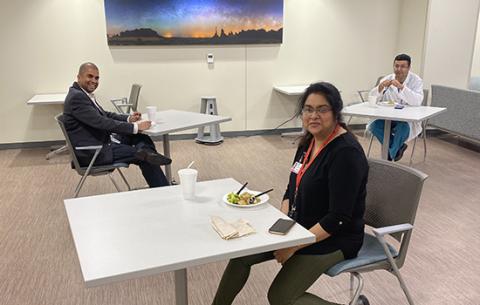 Drs. Preethi William (front), Tushar Acharya (left) and Deepak Acharya practice physical distancing while taking a lunch break from their clinical work
Patient Appointments – "At Banner we will see any patient without active symptoms of infection in-person.  We have an option for video visits for patients at very high risk for complications of COVID-19 infection as well," said Dr. Sweitzer. Call 520-MyHeart (694-3278) for appointment information.
Elective Procedures - "We are working toward safely resuming elective procedures at Banner Tucson as soon as possible. Given the guidelines and standards outlined by Arizona's governor for hospital room capacity and personal protective equipment, we are resuming elective procedures in a measured fashion, in order to resume as safely and quickly as possible," said Dr. Sweitzer.
However, patients with heart attack symptoms should call 911. "We will protect you from infection if you come to the hospital, and we are able to give you the very best rapid heart attack care despite the times we are in. Come in if you develop chest discomfort or other symptoms that are concerning," said Dr. Sweitzer. "Most people having a heart attack experience symptoms they have never had before, most often chest discomfort, but almost everyone is aware that something is wrong. Don't ignore such feelings. You must listen to your body during this time."
(Click here to learn about heart attack symptoms.)
Patients who delay heart attack care often spend more time in intensive care and have longer hospital stays. Banner has taken infection concerns very seriously, isolating COVID-19 patients and health care workers from other patients and health care workers.
"Given the number of unknowns that people have, this has been a very stressful time. I want people to know that cardiologists are uniquely trained to discuss patient care options that align with a person's wishes. Even during normal times we seek to understand a patient's goals and tailor their care to meet those goals. This hasn't changed," said Dr. Sweitzer.
Help UArizona Health Sciences Track COVID-19
To address a critical lack of local data as COVID-19 continues to spread, a team of researchers from University of Arizona Health Sciences and the university's Data Science Institute is launching a two-way texting system to gather and provide valuable information to track COVID-19 in Arizona and identify areas where more resources may be needed. (Click here for more information.)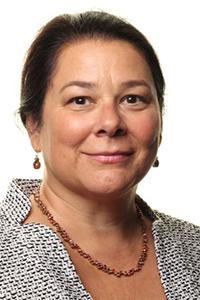 Nancy K. Sweitzer, MD, PhD, is director of the University of Arizona Sarver Heart Center, professor of medicine and chief of cardiology at the UArizona College of Medicine - Tucson. She also serves as editor-in-chief of Circulation: Heart Failure.