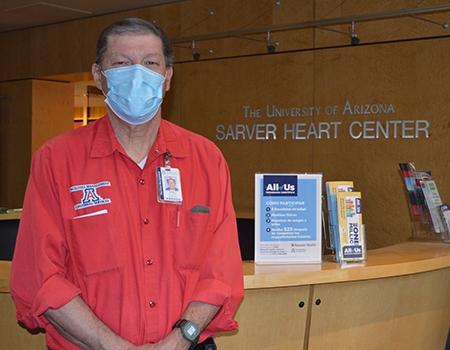 Arturo (Art) Padilla, the custodian for the Sarver Heart Center, has worked diligently to keep the building clean and neat for the past three years. When COVID-19 added a new layer of work, Art elevated his outstanding dedication to the health, safety and cleanliness of the Sarver Heart Center Building. He implemented the COVID-19 Healthy High Performance Cleaning Processes to make a safer environment for faculty, researchers and staff to continue their work.
"Each year, Art works hard to keep Sarver Heart Center in tip-top shape, and this year, he has gone above and beyond to ensure the working environment is sanitized and safe for employees. This is particularly evident in his commitment to perform the added responsibilities derived from COVID-19 policies. He is always willing to help, always seen as a positive influence, and completes his work with pride," said Jared Churko, PhD, assistant professor of cellular and molecular medicine.
"We truly appreciate Art's friendly, responsive demeanor and professional care of the building. He is a shining example of the depth of the team we have to keep Sarver Heart Center focused on our mission of innovating, life-saving patient care," said Nancy K. Sweitzer, MD, PhD, professor of medicine, chief of cardiology and director of the Sarver Heart Center.