African Americans are disproportionately impacted by high blood pressure, also called hypertension, being two times more likely to develop high blood pressure by age 55 compared to whites, according to the CARDIA study, published in the Journal of the American Heart Association (2018).
By the end of the CARDIA study, which followed people for up to 30 years, 75% of African Americans had developed high blood pressure, compared to 55% of white men and 40% of white women. The most stark differences were apparent by age 30.
"The early onset of hypertension in African Americans is what is really notable," said Nancy K. Sweitzer, MD, PhD, director of the University of Arizona Sarver Heart Center. This points to the need for early interventions, including healthy lifestyle education and support, and health monitoring and management.
"Community-based efforts to educate and train people about blood pressure control, like the one being spearheaded by the Sarver Heart Center's Community Coalition for Heart Health Education, have been shown to lead to extremely significant blood pressure lowering," said Dr. Sweitzer, a board-certified advanced heart disease cardiologist, professor of medicine and chief of cardiology at the UArizona College of Medicine – Tucson.
She cited a study of blood pressure measurement and treatment based in barbershops in African American communities.  In this study, the initial average systolic blood pressure (the top number) was 153 mmHg and after six months of monitoring and treatment, blood pressure fell by 27 mmHg to 126 mmHg in the participants. "It has been shown that a systolic blood pressure less than 130 is associated with fewer heart attacks, strokes and less heart failure," said Dr. Sweitzer.
While community support and healthy lifestyle play important roles in preventing and reducing the risks of hypertension and other cardiovascular conditions, these efforts may not entirely replace medical treatment for most people.
"High blood pressure typically has no symptoms. So many patients say, 'I feel fine. Why do I need to take medication,' but it's very important to know when your blood pressure is high, as this increases risk of developing heart attacks, heart failure, strokes, kidney disease, and other very serious complications," added Dr. Sweitzer. (See Know Your Numbers.)
"As people age (and when women go through menopause), the majority of people develop hypertension, through effects of blood vessel stiffening with age, genetics and hormones," said Dr. Sweitzer. "I find a lot of my patients see development of high blood pressure as evidence that they have in some way failed in their self-care, and I think we need to remove that stigma. If you live long enough, hypertension is a very common condition – among all races. By age 80, most everyone of all races has blood pressure higher than our current goals of less than 130/80. Age specific data can be a call to action for young African-Americans and everyone as we age."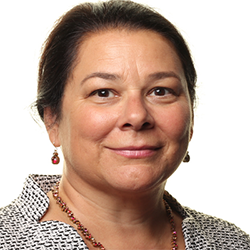 Nancy K. Sweitzer, MD, PhD, is director of the University of Arizona Sarver Heart Center, professor of medicine and chief of the Division of Cardiology in the UArizona College of Medicine - Tucson. She is a board-certified advanced heart failure and transplant cardiologist and clinical researcher, specializing in heart failure, mechanical circulatory support and heart transplant patient care.