Sarver Heart Center is a site for a clinical study to evaluate the effectiveness of finerenone for treating patients with heart failure with preserved ejection fraction (HFpEF). Ejection fraction is a measurement of how much blood flow the heart pumps with each contraction.
HFpEF is a complex condition that affects about half of the 6.5 million people in the United States who are diagnosed with heart failure. HFpEF particularly affects people who have high blood pressure, diabetes or obesity. The prevalence of this type of heart failure is increasing as the population ages and has no proven treatments at this time.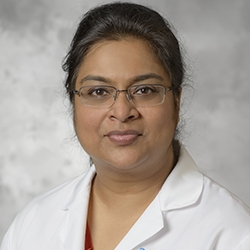 Led by Preethi William, MD, clinical assistant professor and advanced heart disease cardiologist, the study will compare finerenone to placebo and monitor the numbers of heart failure events, such as hospitalization and urgent visits, and deaths due to diseases of the heart or blood vessels. Finerenone currently is prescribed to treat patients who have kidney disease complications.
Qualified study patients are those 40 years and above who suffer from heart failure with ejection fraction 40% or greater. Participants will take a tablet by mouth once a day for up to 43 months. Researchers also will collect information on how much the heart disease impacts the patient's life, change of kidney function, and how well finerenone treatment is tolerated.
This is one example of the more than 20 clinical research studies underway in Sarver Heart Center's Cardiovascular Clinical Research Program. To learn more about clinical research at Sarver Heart Center, visit SARVER HEART CENTER CLINICAL RESEARCH
Visit the Advanced Heart Disease page for more health information. Meet the Advanced Heart Disease Team.