The GUIDE-HF IDE clinical trial is underway to study the effectiveness of the CardioMEMS™ HF System in an expanded population of patients with heart failure. Deepak Acharya, MD, MSPH,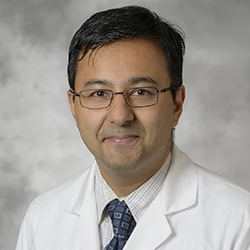 associate professor, is the site principal investigator at Sarver Heart Center for this multi-site research study.
Prior CardioMEMS studies have shown the small, implantable device is safe and effectively helps monitor and manage patients who have heart failure that limits daily life (NYHA III) irrespective of the ejection fraction (a measurement of how much blood flow the heart pumps with each contraction). Such monitoring and management has led to improvements in quality of life and substantial decrease in heart failure hospitalizations.
The current GUIDE-HF trial is enrolling patients with a wider range of heart failure, from mild to severe symptoms (NYHA II-IV), who are on medical therapy, have had a prior heart failure hospitalization or elevated levels of a hormone released by the heart (NT-proBNP) that reflects hemodynamic stress.
A cardiologist will implant a CardioMEMS device through a large vein into each participant during an outpatient procedure. This is a small pressure sensor permanently implanted in the pulmonary artery (PA). It remotely transmits PA pressure measurements from the patient's home to a secure website. Healthcare professionals are able to access these measurements to guide individualized medical management of patients with chronic HF.
Participants will be randomized so that cardiologists managing care will have access to different sets of data monitored. The research team will evaluate the numbers of hospitalizations for heart failure, and emergency department and hospital outpatient observation visits for intravenous diuretic therapy.
Overall, GUIDE-HF will include approximately 3,600 patients at 140 North American sites.
This is one example of the more than 20 clinical research studies underway in Sarver Heart Center's Cardiovascular Clinical Research Program. To learn more about clinical research at Sarver Heart Center, visit SARVER HEART CENTER CLINICAL RESEARCH.