Division of Cardiology faculty and fellows selected two University of Arizona College of Medicine – Tucson internal medicine resident physicians to receive the Charles W. Hall Jr. and Virginia C. Hall Memorial Endowment Award for Outstanding House Officer in the Cardiac Care Unit.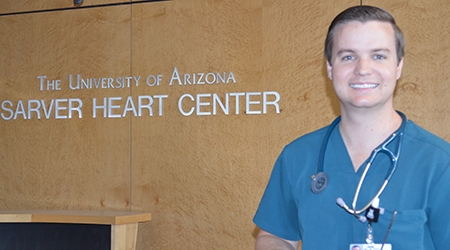 Colin Anderson, MD, grew up in Tucson and attended St. George's University School of Medicine. "I want to thank the entire Hall family for this very generous award. It is an absolute honor to be recognized with this award, especially being from Tucson.
"Our residency program really appreciates the work the cardiology division invests in our learning and the Hall family is a critical part of that. Thank you for being a continued part the University of Arizona community and specifically the internal medicine residency community."
The daughter of a trauma surgeon and a nurse, Samantha Jane Russell, MD, was born in Brantford, Ontario, Canada and
moved to Phoenix at a young age. After high school, she attended the University of Guelph in Ontario on a basketball scholarship and completed a biomedical sciences degree. She pursued a masters' degree focused on ovarian cancer research before her acceptance at the College of Medicine – Tucson.
Dr. Russell is grateful for the lessons of her cardiology studies, which allowed her to enrich her understanding of the cardiovascular system. She looks forward to putting all her College of Medicine – Tucson experiences to use in her future career as a geriatrician. "I extend my sincerest thanks to the Hall family for this tremendous honor. Words fail to express how grateful I am."
"The Hall Award inspires and rewards our most outstanding internal medicine residents based on their performance and excellence in the cardiac care unit. This award recognizes our talented residents who become highly engaged in cardiovascular learning.  No matter your future discipline in medicine, you will see patients with cardiovascular disease, the most common killer of women and men in the United States – in fact, in the world.  Training all our internal medicine residents in expert care of common cardiovascular diseases is a critical part of our mission.  We are delighted to recognize the excellence of these two engaged young physicians," said Nancy K. Sweitzer, MD, PhD, director of the Sarver Heart Center, professor of medicine and chief of cardiology at the College of Medicine – Tucson.