On the first federally recognized Juneteenth National Holiday, the University of Arizona Sarver Heart Center faculty and staff gathered with the Minority Outreach Program/Community Coalition for Heart Health Education (CCHHE) to receive $20,000 from Walmart on its National Day of Giving.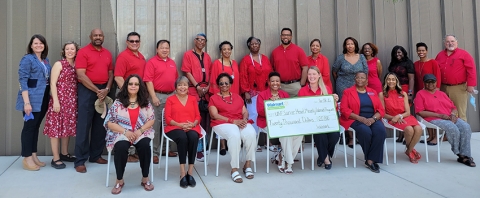 "On behalf of Sarver Heart Center, thank you to Walmart for recognizing and supporting the far-reaching work of the Community Coalition," said Elizabeth Juneman, MD, associate professor of medicine and medical director of the Advanced Heart Failure Program. Dr. Juneman has collaborated with CCHHE to present heart health information focused on women.
Since 2009, the Sarver Heart Center minority outreach members have contributed 600,000 volunteer hours, primarily in Tucson, Southern Arizona and the Phoenix area. The grant funds will help the community volunteers expand their programming, which includes:
Communication and outreach via Zoom programs during the COVID-19 era, a newsletter and health education materials and supplies.
Fundraising via grant writing and individual donations to support education and outreach programs and a scientific investigator award focused on heart disease in minority populations and health disparities.
Planning a community-wide Health Education Luncheon in 2022.
Collaborating with the American Heart Association Self-Monitoring Blood Pressure Program in Tucson, to train peer health advocates who distributed 90 blood pressure cuffs and trained people known to have high blood pressure to accurately monitor and manage their blood pressure.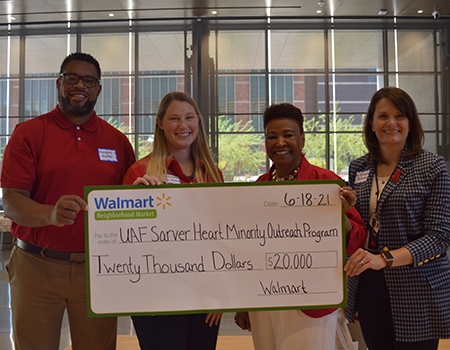 "These grants will further our volunteers' outreach program," said Wanda F. Moore, chair of CCHHE. 
"You are doing the work to make your community healthier. We are proud Walmart can support your work," said Marques Hunter, senior director II, Regional Health & Wellness Operations, Walmart, who met the CCHHE along with Dr. Amber Pate-Mozroll, Market Health & Wellness director.