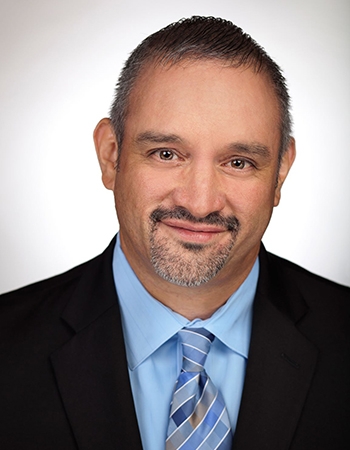 John M. Ruiz, PhD, University of Arizona associate professor of clinical psychology in the Department of Psychology and Sarver Heart Center, has been appointed to the U.S. Preventive Services Task Force (Task Force).
"All of his colleagues at the Sarver Heart Center congratulate Dr. Ruiz on this prestigious appointment," said Nancy K. Sweitzer, MD, PhD, director of the UArizona Sarver Heart Center and professor of medicine in the College of Medicine – Tucson. "Dr. Ruiz is a valued and highly collaborative member of Sarver Heart Center. His scientific career has been devoted to reducing cardiac and metabolic disease risk and to addressing health disparities in Hispanic/Latino communities.  Dr. Ruiz's research is innovative, impactful and culturally sensitive.  He is really making a difference in Hispanic/Latino communities, now more than 15% of the US population, where risk factors for heart disease are very prevalent.  We are certain Dr. Ruiz will share his unique and important perspective to the Task Force panel, which has significant influence over national policy on cardiac disease prevention."
The Task Force is an independent, volunteer panel of national experts in prevention and evidence-based medicine. Members come from primary care and prevention-related fields, including internal medicine, family medicine, pediatrics, behavioral health, obstetrics and gynecology, and nursing. Members are appointed to serve 4-year terms.
"Dr. Ruiz is one of the world's leading experts on the social and psychological factors that impact physical health and wellness. His appointment to this important national Task Force is a unique opportunity to influence policies that will have a meaningful impact on access to healthcare and disease prevention for all individuals. Congratulations on this very prestigious appointment," said Lee Ryan, PhD, professor and dead, Psychology Department, and associate director, Evelyn F. McKnight Brain Institute.     
"I am pleased to welcome Dr. Ruiz to the Task Force," said Task Force chair Karina W. Davidson, PhD, MASc. "With his knowledge of cardiovascular behavioral medicine and extensive research into racial disparities in preventable diseases, Dr. Ruiz will be a valuable addition to the Task Force, especially as we expand our focus on addressing health inequities."
Dr. Ruiz is director of health psychology/behavioral medicine training, and diversity, equity, and inclusivity in the Department of Psychology at the University of Arizona. Dr. Ruiz examines relationships between individual-level psychosocial factors, social behaviors, and a number of important and prevalent health conditions, including atherosclerotic cardiovascular disease and metabolic diseases such as obesity and diabetes and cancer. A member of the BIO5 Institute, his research also focuses on biobehavioral mechanisms, such as how social environment, culture, beliefs and other behavioral traits can influence disease biology and disease risk. He was a 2018-2019 recipient of a Sarver Heart Center Investigator Award for his research titled, "Hispanic Ethnicity and Southern Border Proximity as a Moderators of Cardiovascular Risk and Resilience: Ethnicity, Stress, and The Relational Environment Study (ESTRES)." Dr. Ruiz is the incoming editor-in-chief of the American Psychological Association journal, Health Psychology.
About the University of Arizona Sarver Heart Center
The University of Arizona Sarver Heart Center's 165 members include faculty from cardiology, cardiothoracic surgery, pediatric cardiology, neurology, vascular surgery, radiology, endocrinology, emergency medicine, nursing, pharmacy and basic sciences. The UArizona Sarver Heart Center emphasizes a highly collaborative research environment, fostering innovative translational or "bench-to-bedside" research; dedicated to innovating lifesaving patient care. If you would like to give permission for Sarver Heart Center to contact you about heart research studies, please complete a Cardiology Research Registry Information Form. The academic mission of the Sarver Heart Center encompasses four fellowship programs in cardiovascular disease, interventional cardiology, advanced heart failure and transplant cardiology, and electrophysiology. For more information: heart.arizona.edu (Follow Sarver Heart Center @UAZHeart : Facebook | Twitter | Instagram | YouTube).
About the Task Force
The Task Force is an independent volunteer panel of national experts in prevention and evidence-based medicine. The Task Force works to improve the health of people nationwide by making evidence-based recommendations about clinical preventive services, such as screenings, counseling services, or preventive medicines. More information on the Task Force is available at www.uspreventiveservicestaskforce.org.
###