The University of Arizona College of Medicine – Phoenix selected two medical students to receive the Charles W. Hall Jr. and Virginia C. Hall Memorial Endowment Award. Originally established at the Sarver Heart Center to inspire and reward the most outstanding trainees in medicine based on their performance and excellence in the Cardiac Care Unit, the Hall family recently expanded the focus to also support the College of Medicine - Phoenix.
Mr. Charles W. Hall Jr. was a businessman from Illinois whose children are all UArizona Alumni. He was an active lobbyist for building the medical school in Tucson. The Charles W. Hall Jr. and Virginia C. Hall Memorial Endowment Award was established at the Sarver Heart Center through an effort led by his son and bolstered by their family and friends.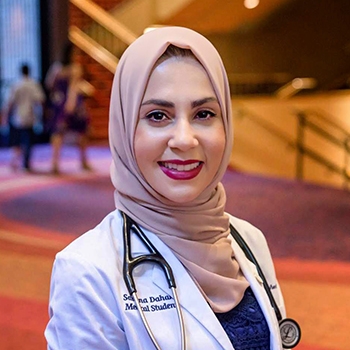 Sabrina Dahak, Class of 2023, expressed her gratitude to the Hall family for the recognition and support: "I believe we should always pay it forward. I am very interested in bridging the gap in healthcare access and volunteer at the free community clinic, Wesley Clinic. I also continue to serve as a mentor for other underrepresented medical students and work as a tutor at the medical school. This award allows me to continue contributing much of my time to studying, helping my fellow students, serving on various clubs as a leader, and volunteering for various organizations."
Sabrina is the first in her family to attend a university and medical school. "I truly believe that I would not be where I am without the support of the Hall family and those who have believed in me all these years. This path is not easy, but supportive people make it all worthwhile," said Sabrina.
As a nonresident student from Southern California, the recognition and support is also greatly appreciated by Rachel L. Schuurs, Class of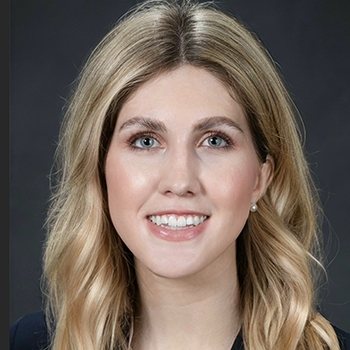 2025: "I was drawn to the University of Arizona College of Medicine-Phoenix specifically because of its dedication to service, but what ultimately led me to choose the university was the culture—one of openness and support for students' needs—as well as the true sense of community fostered by faculty, staff, and students alike. Although the transition to medical school has been stressful at times, I couldn't imagine a better place to set the foundation for my future medical career."
While she is open to learning about all the specialties during medical school, Rachel is strongly considering cardiology. As a nine-year-old girl, she was in awe of the care given to her cousin, an athletic 14-year-old who was a heart transplant recipient after being diagnosed with dilated cardiomyopathy. "This interest grew during my undergraduate studies. As I was preparing to apply to medical school. I pursued shadowing opportunities within the specialty, most notably in the Cardiac Catheterization Lab at UCLA. There, I had the chance to witness many unique cases which served to further my interest in cardiology. I have recently accepted a position on a research project at Banner University Medical Center that seeks to standardize the cardiac evaluation for liver and kidney transplant candidates. I am very excited about this study and getting involved in research in general, and I hope that it will help me further settle on my future specialty choice," she said.