The University of Arizona Sarver Heart Center awarded three University of Arizona College of Medicine – Tucson medical school graduates the 2023 Zenas B. Noon Award for Excellence in Cardiology, an award established by the family of Dr. Noon, a surgeon born in Nogales, AZ who served that community for more than three decades.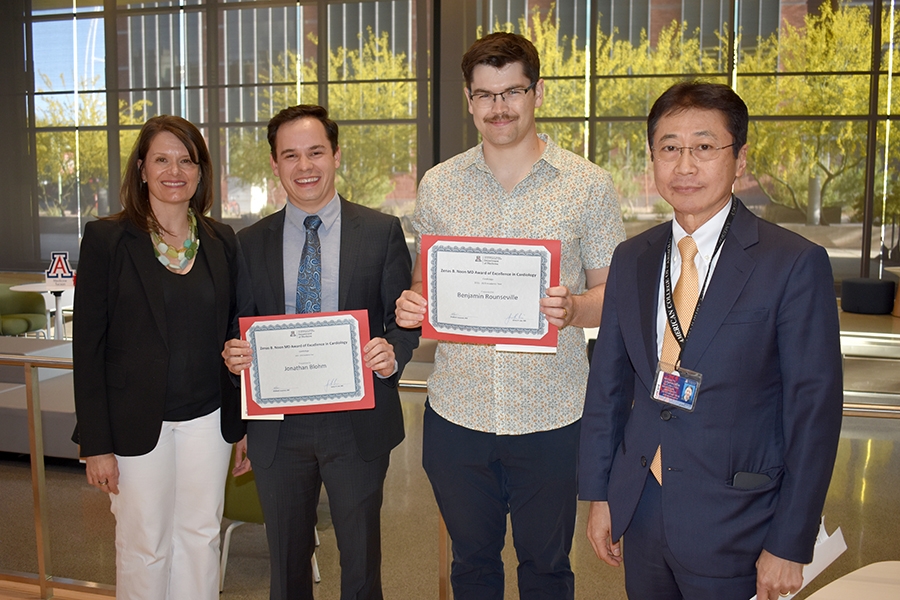 Elizabeth Juneman, MD, interim Director of the Sarver Heart Center (left), Jonathan Blohm, MD, Ben Rounseville, MD, and James Liao, MD, chair of the Department of Medicine at the College of Medicine - Tucson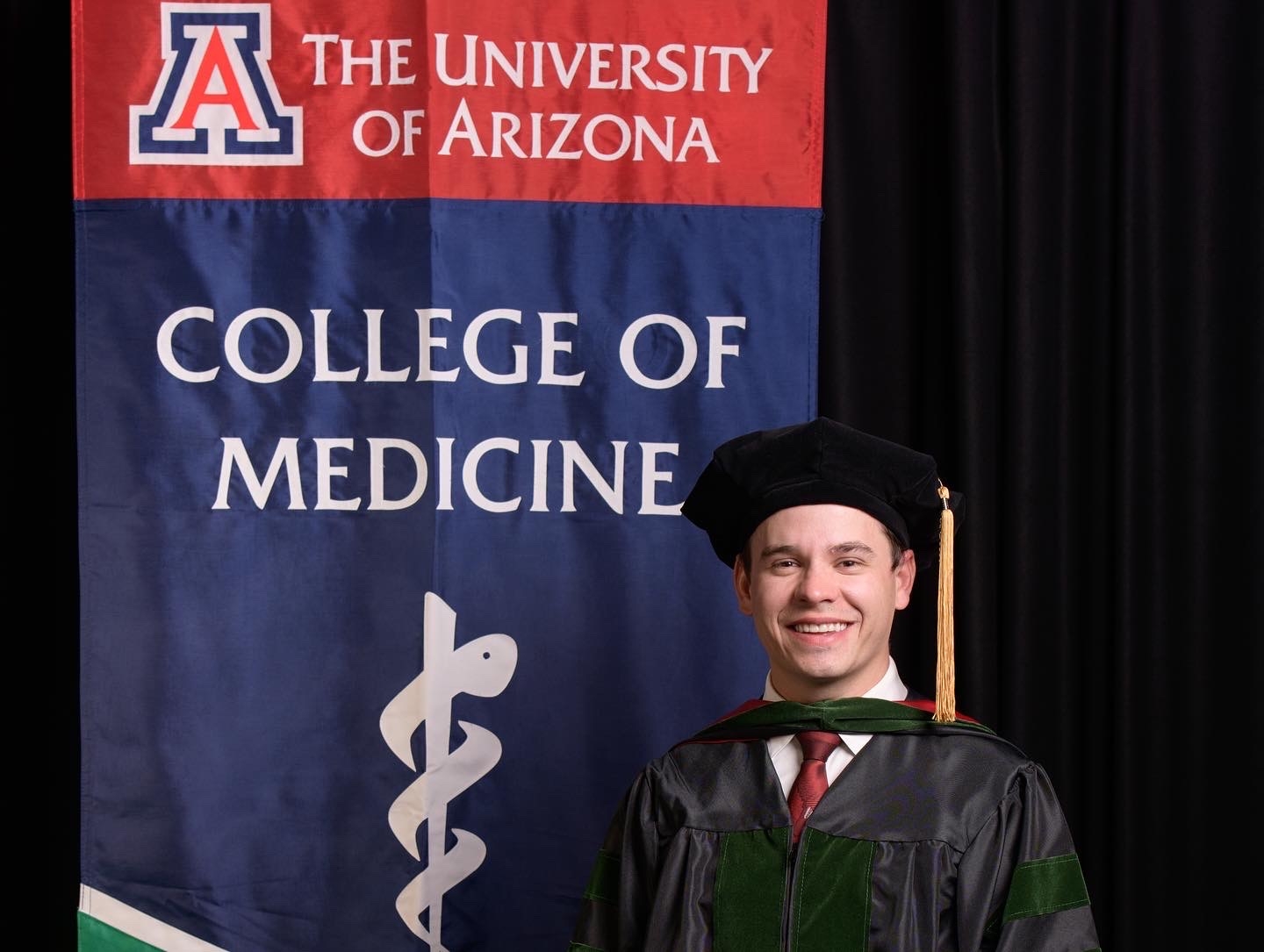 Jonathan Blohm, MD, was born and raised in Tucson, Arizona and attended the University of Arizona for his bachelor and medical degrees. While at the College of Medicine – Tucson, Jonathan was involved in the rural health professions program, working at rural healthcare sites around Arizona and various research projects with his mentor Dr. Bujji Ainapurapu, including their publication in the American Journal of Medicine on Fatal Disseminated Coccidioidomycosis in Cirrhosis. He was selected for the U.S. Public Health Service's 2023 Excellence in Public Health Award. "I am so honored to have been selected to receive the Zenas B. Noon Award for Excellence in Cardiology Award. Born in Nogales, Arizona, Dr. Noon represented the tremendous impact that physicians from rural and underserved communities could have over a long career in medicine. His impact is something I hope to emulate in the future as a physician," said Blohm. Jonathan is beginning Internal Medicine residency at the University of North Carolina Hospitals. His future interests involve pursuing fellowship in Critical Care Medicine, Cardiology, and/or Pulmonology.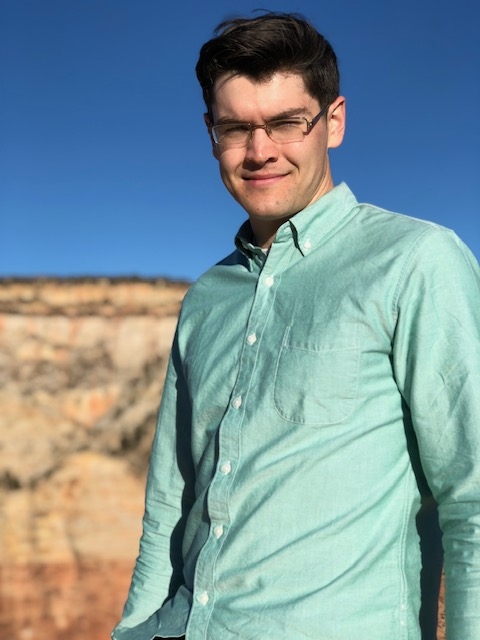 Ben Rounseville, MD, was born and raised in Tucson. He studied piano in undergraduate, and like all good musicians, decided to pursue medicine. In medical school, Ben was a voracious learner and wanted to understand as much as he could about medicine and the human body and decided that diagnostic radiology was the best specialty to do so. Ben will have the trifecta of doing undergraduate, medical school, and residency all at the University of Arizona. "I greatly enjoyed my time as an acting intern on the Cardiac Care Unit," said Rounseville. "I received absolutely amazing teaching and mentorship from the attendings, including Dr. Lee, Dr. Pineda, Dr. Chatterjee, and Dr. Corban, as well as all of the residents and fellows." He is immensely honored and grateful to be a recipient of the Noon award. Ben is spending the next year at the Tucson Medical Center, then will begin his residency in diagnostic radiology at the University of Arizona. In his free time, Ben likes to play chess, cook authentic Mongolian food with his wife, and do ice baths in his converted chest freezer.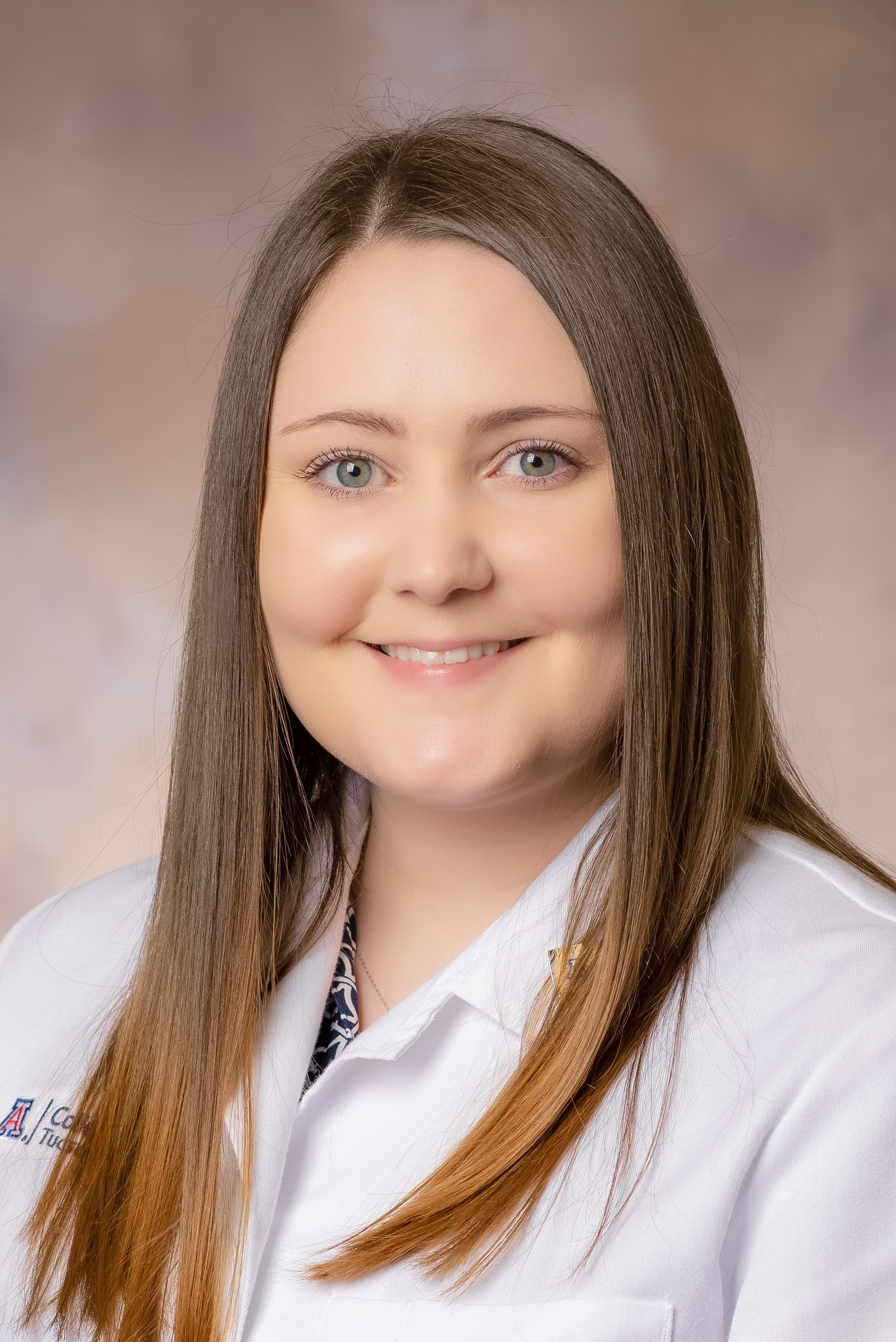 Amanda Ruiz, MD, was raised in Peoria, Arizona. She states her path to medical school was a long journey, as the first in her family to attend to attend medical school and graduate college with any degree. She worked full time during her undergraduate years as a nursing assistant. Amanda took three years off between undergraduate and medical school to research pancreatic and colon cancer. While attending the College of Medicine – Tucson, she served on the Honor Code committee, the Association for Native American Medical Students, and the Rural Health Professions Program. She has a passion for Native American health in Arizona and plans to focus her career on those living in rural areas. Amanda is beginning anesthesiology residency at Mayo Clinic School of Graduate Medical Education in Rochester, Minnesota.
About the Noon Award
Zenas Barnard Noon was born in Nogales, AZ, in May 1905. After attending the University of Arizona, Dr. Noon graduated from the Medical College of Virginia in 1930. During the depression his means of self-financial aid was to play the saxophone and clarinet in a band on nights and weekends. He served his medical internship at the University of Michigan, studied postgraduate surgery at Johns Hopkins University and the University of Pennsylvania.
He completed his training in 1933 and accepted a position as medical director of the Federal Emergency Relief Administration Transient Camp in Nogales, where he also established a private practice. While he tried to limit his work to surgery, the economic conditions of the time demanded he also practice general medicine. He was the only surgeon in Nogales for 35 years except for the four years he was on active duty during World War II with the U.S. Army Medical Corp as an orthopedic surgeon.
Dr. Noon was active as a member of the American Medical Association, Arizona Medical Association, Santa Cruz County Medical Society, State Board of Medical Examiners and the Arizona Industrial 
Commission Review Board. He was a physician for the Nogales Volunteer Fire Department and an active member of the Nogales Lions Club and Elks Lodge.
Dr. Noon was a devoted family man. He and his wife, Mary, had six children, all of whom attended the University of Arizona. His son, George, is a cardiovascular surgeon and holds the Meyer-DeBakey Chair in Investigative Surgery at Baylor College of Medicine in Houston, Texas.
Dr. Zenas Noon suffered a heart attack in 1971 and decided to give up his surgical practice and broaden his general practice. After his heart attack, he finally began to take the vacations he so often prescribed to his patients. He died suddenly in 1981 while on safari with his wife, son and daughter-in-law. The family is thankful for the excellent care Dr. Noon received from the members of the Cardiology Division at the University Hospital in 1971. Subsequently they have generously set up the Zenas B. Noon Award for Excellence in Cardiology Award to recognize our outstanding medical students.