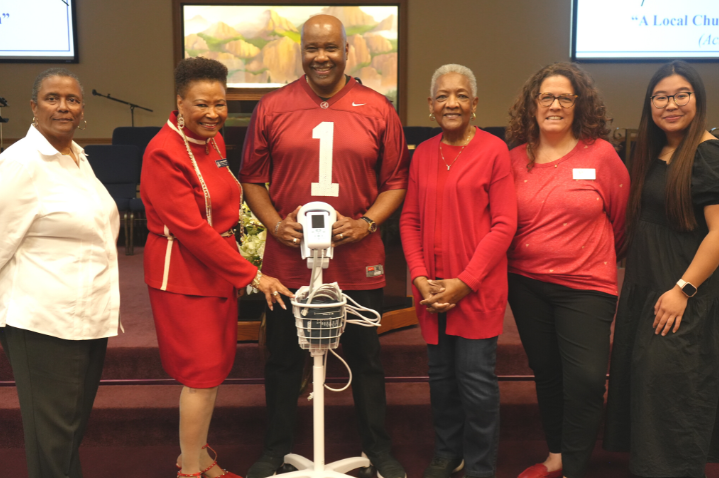 A donation by the Sarver Heart Center Minority Outreach Program and the American Heart Association provides the congregation at Rising Star Baptist Church, a predominantly African American church located in South Tucson, free access to measure their blood pressure at any time they are at the church.
Program members and their community partner AHA donated a standalone blood pressure monitoring unit. Wanda F Moore, Founder and Chair of the Minority Outreach Program, and Cheryl Alli along with Katy Wood and Malina Koukhamsay of AHA presented the machine to Pastor Amos L. Lewis after Sunday service on February 12, 2023. The monitor is located inside of Rising Star in its medical room. Information on how to properly use the machine, monitor and lower your blood pressure is also provided to visitors.
High blood pressure, known as the "silent killer," is the leading cause of stroke. African American men and women have higher rates of high blood pressure than any other racial or ethnic group, and are more likely to be hospitalized for high blood pressure, according to the Centers for Disease Control and Prevention. Yet, many do not know they have it, because they don't have symptoms.
Over 1,000 members belong to Rising Star Baptist Church, at 2800 East 36th Street in Tucson. According to the Church's website, members are predominantly African American, but people from all backgrounds, cultures and religions are welcome.
"The Sarver Heart Center is so proud of Wanda F Moore, and the Minority Outreach Program, for its continued dedication to providing important life-saving heart health information to the Tucson community," states Carol Gregorio, PhD, interim Director of the Sarver Heart Center. "The installation of the blood pressure machine demonstrates the importance of monitoring your blood pressure and eliminates barriers that may prevent people from doing so."
Funding for the blood pressure monitor was provided by the American Heart Association Arizona.