Professor, Psychiatry
Professor, Psychology
Professor, Neuroscience
Richard D. Lane, M.D., Ph.D. is Professor of Psychiatry, Psychology and Neuroscience at the University of Arizona. A clinical psychiatrist and psychodynamic psychotherapist with a Ph.D. in Experimental Psychology (systems neuroscience and emotion research), he was one of the first researchers to perform functional brain imaging studies of emotion in the 1990s and continues studies on emotion, emotional awareness and neurovisceral integration to the present using fMRI. His research on emotion, the brain and heart disease has been funded by a variety of sources including K and several RO1 grants from NIH. He is the author of 190 papers and book chapters and is senior editor of two books. As an educator he served as director of the psychotherapy curriculum for psychiatric residents at the University of Arizona for over two decades and has received seven awards for teaching and mentoring. He was President of the American Psychosomatic Society in 2005-6, elected member of the American College of Neuropsychopharmacology, Distinguished Life Fellow of the American Psychiatric Association and elected Honorary Fellow of the American College of Psychoanalysts.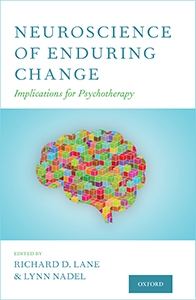 Guiding themes in his research and scholarship have been the importance of integrating systems neuroscience with psychological conceptualizations and the need to bridge basic science and clinical application. These themes have driven his work on emotional awareness and alexithymia, the role of emotion in mind-body interactions including susceptibility to sudden cardiac death and the mechanisms by which memory and emotion interact to make enduring change in psychotherapy possible. The last theme was featured in the book Neuroscience of Enduring Change: Implications for Psychotherapy published by Oxford University Press in 2020.
Professional Affiliations
American Psychiatric Association, American Psychosomatic Society, Academy of Consultation-Liaison Psychiatry, Academy of Behavioral Medicine Research, American College of Neuropsychopharmacology, Cognitive Neuroscience Society, International Neuropsychoanalysis Society, Southwest Psychoanalytic Society, Society for the Exploration of Psychotherapy Integration
Research Interests:
Cognitive-developmental model of individual differences in emotional experience and expression; neural basis of emotion and emotional awareness using PET and fMRI and its interaction with peripheral physiology, particularly vagal tone; and mechanisms by which emotion triggers sudden cardiac death.
Board Certifications:
American Board of Psychiatry and Neurology, 1984
Degrees:
PhD: University of Arizona, 1999
MD: University of Illinois Abraham Lincoln School of Medicine, 1978
BA: Yale University, 1974
Fellowships:
Yale University School of Medicine, Epidemiology, 1983-1985
Yale University School of Medicine, Psychiatry, 1982-1983
Honors and Awards:
President, American Psychosomatic Society, 2005-2006
Honorary Fellow, American College of Psychoanalysts, 2011
Howard E. Wulsin Excellence in Teaching Award, Arizona Psychiatric Society, 2014
Residencies:
Yale University School of Medicine, Psychiatry, 1978-1982
Primary College, Department: