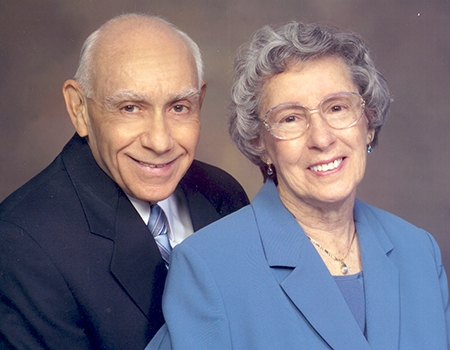 Leave it to an accountant to keep track of costs – in this case, the cost of treating heart disease. "I've calculated the costs associated with my heart attack, bypass surgery, cardiac rehabilitation and disability pay at approximately $300,000," Mort Zimmerman said.  He's concerned about the skyrocketing costs of heart disease and knows that it's easier and much more cost effective to prevent heart disease than cure it. That's why he's been one of the most enthusiastic and involved supporters of the Sarver Heart Center since he joined the Board in 1998.
Even as a young man, Mort knew he had all the risk factors for heart disease. He worked in a stressful corporate position as controller for several buying units at Sears headquarters in Chicago over a 35-year career. Heart disease was a big part of his family history. His mother died from cardiac arrest at age 56 while in the hospital recovering from a heart attack. Her youngest brother died of cardiac arrest at age 40. It didn't come as a real surprise to him when, at age 56, he suffered a heart attack.
At 57, after bypass surgery, Mort took medical retirement and moved to Green Valley in 1989. His doctor in Chicago referred him to Gordon A. Ewy, MD, now professor emeritus and former director of the Sarver Heart Center. Dr. Ewy arranged for Mort to be seen by Karl B. Kern, MD, a cardiologist and professor of medicine. Dr. Kern remains Mort's physician today.
Mort's first wife passed away shortly after their move to Arizona. Friends from church introduced him to Lorain, who moved to Green Valley from Kansas City in 1987 after her husband died. They were married in 1990. Lorain's family has a history of heart disease as well.
In retirement, Mort and Lorain have shared a passion for volunteering and being active in their community. They are members of the Methodist church in Green Valley, where Mort is a past chair of the board of trustees. He served five years on the board of the American Heart Association in Arizona and served more than 29 years as a volunteer uniformed officer with the sheriff's department in Green Valley. Lorain volunteered for more than 16 years at the Titan Missile Museum.
The Zimmermans are committed to a healthy lifestyle and actively promote heart health. "Changing an unhealthy lifestyle is key," said Mort. And they certainly follow that principle faithfully, eating healthy foods daily.
"Your engagement with the board has been invaluable to me.  Your insightful questions and suggestions have made us more effective at reducing the toll of heart disease and focusing the efforts of the Sarver Heart Center," Nancy K. Sweitzer, MD, PhD, SHC director and chief of cardiology, said of Mort, regarding his record of 22 years of service on the Sarver Heart Center Board.
After losing family members to heart disease and Mort's own experience with heart disease, the Zimmermans have transformed their losses and made a significant contribution to cardiac research and heart health education which will continue to benefit others for years to come.  
We are grateful and proud to recognize Mort and Lorain Zimmerman of Green Valley for their outstanding generosity to the Sarver Heart Center.  They have chosen to support cardiac research and education through their estate gift and charitable gift annuities (CGA).  Charitable gift annuities offer a fixed stream of income with partial tax deduction, which also supports the giver's philanthropic desires. For more information on setting up an endowment or CGA to benefit the work of the Sarver Heart Center, please contact LaToya Singletary, Sr. Director of Development at lsingletary@arizona.edu or (520) 626-4518.