The American Heart Association honored Julia Indik, MD, PhD, with the Laennec Master Clinician Award during the virtual 2021 Scientific Sessions in November. The award recognizes a senior clinician with a lifetime of outstanding contributions to teaching and patient care in cardiovascular disease.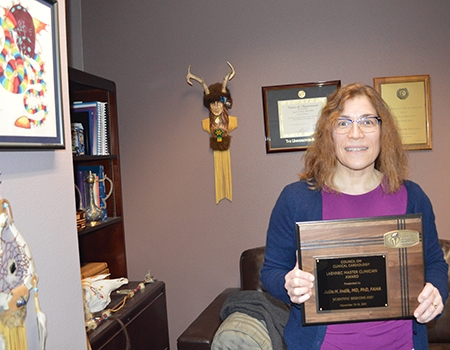 Dr. Indik, professor of medicine in the Division of Cardiology, University of Arizona College of Medicine – Tucson, is director of the University of Arizona Sarver Heart Cardiovascular Disease Fellowship Program. She also is the Flinn Foundation and American Heart Association Endowed Chair in Electrophysiology and Heart Disease Research.
"As I look over the list of past honorees, I'm overwhelmed," said Dr. Indik, who specializes in cardiac electrophysiology, a cardiology subspecialty that focuses on heart rhythm disorders. "During the past 20 years, the idea of 'bedside' cardiology has changed so much, particularly the way technology is incorporated into patient care and diagnostics," she said.
Prior honorees include Frank Marcus, MD, founder of the cardiology division at the College of Medicine and a pioneer in the field of cardiac electrophysiology, who is one of Dr. Indik's mentors.
In addition to teaching at UArizona, Dr. Indik served on numerous committees of the American College of Cardiology and Heart Rhythm Society to promote professional education and development of clinical consensus statements and guidelines. She has taught cardiology board certification courses and has written certification tests for the American Board of Internal Medicine.
Qualities cited by the Leannec Post-Graduate Education Committee include exceptional insight in correlating the physiological processes of cardiovascular disease with clinical findings at the bedside; national and international recognition of expertise in the signs and symptoms in an important area of cardiovascular disease; and national and international recognition in the application of diagnostic technology in patient care and teaching in cardiology.
"The Laennec Master Clinician Award is one of the highest honors in cardiology and is awarded only to the most distinguished and brilliant teachers of cardiovascular medicine. Dr. Indik is highly deserving of such recognition for her skills as a physician educator of trainees and peers," said Nancy Sweitzer, MD, PhD, professor of medicine and director the Sarver Heart Center. "It is a wonderful illustration of the type of internationally renowned and distinguished faculty we are so lucky to have at the University of Arizona Sarver Heart Center and Banner University Medicine in Tucson." 
Dr. Indik's research has included the study of waveform characteristics of ventricular fibrillation and its relationship to heart failure and myocardial infarction in the context of resuscitation research with Dr. Karl Kern. She also was involved in study of arrhythmogenic right ventricular dysplasia, with Dr. Marcus.
About the University of Arizona Sarver Heart Center
The University of Arizona Sarver Heart Center's 165 members include faculty from cardiology, cardiothoracic surgery, pediatric cardiology, neurology, vascular surgery, radiology, endocrinology, emergency medicine, nursing, pharmacy and basic sciences. The UArizona Sarver Heart Center emphasizes a highly collaborative research environment, fostering innovative translational or "bench-to-bedside" research; dedicated to innovating lifesaving patient care. If you would like to give permission for Sarver Heart Center to contact you about heart research studies, please complete a Cardiology Research Registry Information Form. The academic mission of the Sarver Heart Center encompasses four fellowship programs in cardiovascular disease, interventional cardiology, advanced heart failure and transplant cardiology, and electrophysiology. For more information: heart.arizona.edu (Follow Sarver Heart Center @UAZHeart : Facebook | Twitter | Instagram | YouTube).