Wanda F Moore, chair of University of Arizona Sarver Heart Center's Minority Outreach Program, is the 2021 recipient of Greater Tucson Leadership's Founders Award. Invited to join the Women's Heart Health Education Committee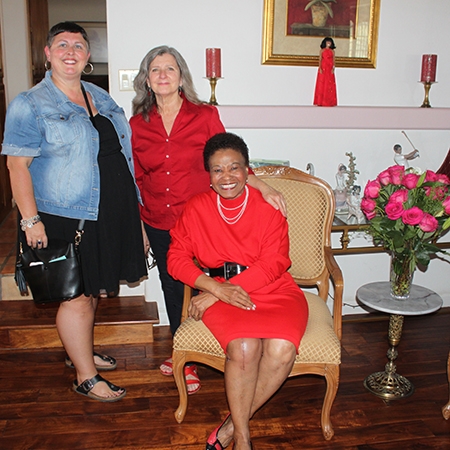 in 2009,
Wanda quickly began to encourage others to join and to solicit donations for the heart center. Her involvement has included expanding community education and outreach activities to include underserved minority communities. She also serves on the Sarver Heart Center Board.
"African Americans bear a disproportionate burden of heart disease in the United States. Wanda has been personally impacted by heart disease, as have many members of her family. She has learned the factors impacting heart disease risk in her community and is highly engaged in reducing risk in herself, those she loves, and everyone in her community. We have much work ahead of us and I cannot express how grateful I am to have an ally like Wanda," said Nancy K. Sweitzer, MD, PhD, director of the Sarver Heart Center and professor of medicine at UArizona College of Medicine – Tucson.
"While most people retreated during the COVID-19 pandemic, Wanda quickly recognized the deadly intersection presented by cardiovascular disease and COVID infection, overcame her doubts about the vaccine, and started educating her community about the importance of vaccination. She wrote and received a number of grants supporting efforts to educate at-risk populations about COVID-19 prevention as well as heart disease and stroke risks and symptoms. Under her leadership, the Minority Outreach Program contributed more than 600,000 volunteer hours since 2009, focusing on heart health education, particularly for women of color and their families," wrote Katie Maass, Sarver Heart Center's communications director, in nominating Wanda for the Founders Award.
The Founders Award, established in 1985, is a lifetime achievement recognition honoring an individual who has demonstrated significant long-term community involvement and accomplishments and who has helped to shape the community in a positive manner with merit and dedication. The Greater Tucson Leadership selection committee includes community leaders representing business, government, non-profit, and higher education.
For more information on the Women's Committee and Minority outreach program, please visit this webpage.