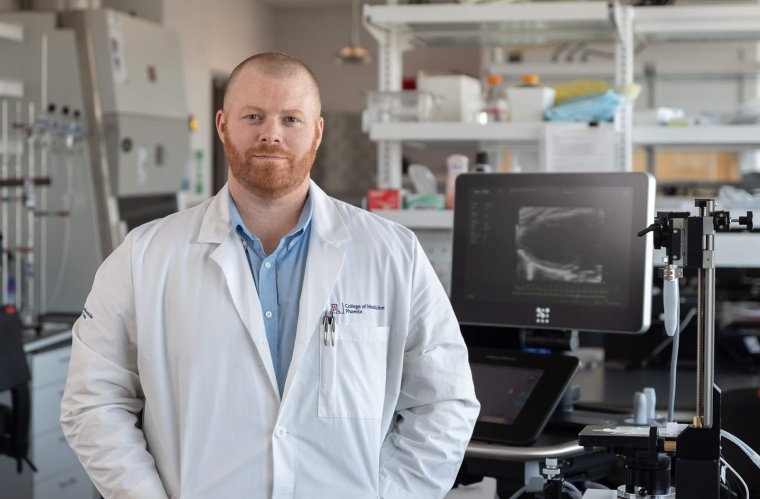 Erik Blackwood, PhD, Sarver Heart Center 2021-2022 investigator award recipient and research assistant professor in the University of Arizona College of Medicine – Phoenix, received the 2022 Outstanding Postdoctoral Scholar Award from the University of Arizona.
"It's an absolute honor to be recognized by my mentors and the University of Arizona," Dr. Blackwood said. "I've been fortunate enough to be surrounded by incredible role models for success, and I try to absorb as much as possible from their influence. I've said this many times, but any success I obtain is a direct result of their efforts – and patience – on my development as a scientist and mentor."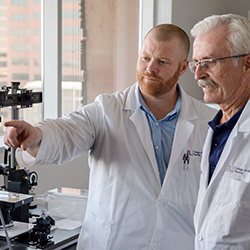 When he received the award late last year, Dr. Blackwood was a postdoctoral fellow in the lab of Sarver Heart Center member Christopher Glembotski, PhD, a professor of internal medicine and director of the Translational Cardiovascular Research Center.
"I initially started volunteering in the lab of my mentor, Dr. Glembotski, who was at San Diego State University at the time, while working as an emergency medical technician in San Diego County. I was only anticipating that this would boost my competitiveness for applying to medical school but found myself spending more and more time in the lab. I realized I truly enjoyed the world of biomedical and discovery-driven research," Dr. Blackwood said.
He eventually pursued a doctorate in cellular and molecular biology with a focus on molecular cardiology in Dr. Glembotski's lab at San Diego State University before moving to the College of Medicine – Phoenix to assist with the growth of the Translational Cardiovascular Research Center. He has since transitioned to research assistant professor with his own independent research program.
Dr. Blackwood's investigator award, funded by the Irving J. Levinson Memorial Research Award and J.G. Murray, focused on therapeutic efficacy of ATF6-activating compound of acute myocardial infarction.
Dr. Blackwood's current research focuses on how various causes contribute to heart disease and eventual heart failure. "We're specifically interested in how interorgan communication facilitates both a healthy physiologic state and, during disease, pathogenesis. All of our projects are aimed at identifying new potential therapeutic targets for these presentations of heart failure and testing them for efficacy," he said.
"I've mentored many people in my lab over the years, and Erik has a rare trifecta of talents that make him an outstanding postdoctoral scholar," Dr. Glembotski said. "First, he is passionate about the research he does, always focusing on the highest impact problems to solve and always addressing how the solution will contribute to an eventual treatment for heart disease. Second, as a result of his unwavering passion, he is willing to work as hard as it takes to tirelessly seek the answers to the problems he identifies as needing solutions. Finally, he has a natural intellect for the key principles involved in biomedical science and research, and he can focus that intellect in ways that take him to the finish line sooner than many others."
Dr. Blackwood said he is grateful for Dr. Glembotski's mentorship throughout his career. "I wouldn't be in this position or even be on the radar for this recognition without him. It's a rare opportunity to find someone so passionate and dedicated who truly enjoys mentoring trainees. I've been fortunate enough to benefit from that."