OldFac Image: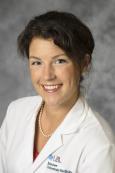 OldFac Short Bio:
Sophia Airhart, MD, is an assistant professor in the UA College of Medicine-Tucson, Division of Cardiology and a heart failure specialist with the Advanced Heart Failure, Mechanical Circulatory Support and Cardiac Transplantation Team at Banner – University Medical Center Tucson.
Dr. Airhart is board certified in internal medicine, cardiovascular disease, and echocardiography, and board eligible in advanced heart failure and transplantation. She is a member of the American College of Cardiology's Heart Failure and Transplant Section, the Heart Rhythm Society, and the American Heart Association/American Stroke Association's Council on Clinical Cardiology, among others.
Her clinical interests include: hemodynamics in pulmonary hypertension and right heart failure, as well as the use of mechanical assist devices in management of shock and advanced heart failure. Her research interests include exploring the genetic predisposition to pulmonary vascular disease in patients with pulmonary hypertension, and developing novel therapy to address mitochondrial dysfunction in systolic heart failure.
Dr. Airhart received her BA in philosophy from Whitman College in Walla Walla, Wash. Following medical school at Oregon Health & Science University, Dr. Airhart completed her internal medicine residency at Barnes Jewish Hospital, Washington University School of Medicine in St. Louis, Mo. She completed a cardiology fellowship at the University of Washington in Seattle, Wash., and an advanced fellowship in heart failure/transplant cardiology at Allegheny General Hospital in Pittsburgh, Penn. She has authored multiple original research publications as well as several book chapters on cardiomyopathy. Outside of work she loves cycling, yoga and hiking. 
For physician appointment information, please call 520-MyHeart (694-3278).
For more health information, please visit our Heart Health page. (http://heart.arizona.edu/heart-health)
If you appreciate the content found on our website, please consider a donation to the Sarver Heart Center.  (http://heart.arizona.edu/giving)
OldFac Titles:
Assistant Professor, UA College of Medicine - Tucson, Division of CardiologyHeart Failure Specialist, Advanced Heart Failure, Mechanical Circulatory Support and Cardiac Transplantation Team, Banner - University Medical Center Tucson