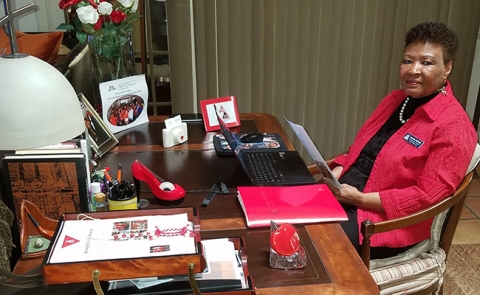 Wanda F Moore continues to contribute to Sarver Heart Center with her time, talents and treasures.
COVID-19 has challenged everything during 2020, including how the University of Arizona Sarver Heart Center interacts with the community. Wanda F Moore, who has seemingly endless energy to confront a challenge, applied for and obtained a grant from the Community Foundation of Southern Arizona to advance the work of the Sarver Heart Minority Outreach Program and Community Coalition for Heart Health Education.
Launched in 2009 by Wanda, who also serves as a Sarver Heart Center board and women's committee member, program volunteers work with the Community Coalition for Heart Health Education to teach chest-compression-only CPR to minority populations and share heart health education information. They also invite Sarver Heart Center faculty physicians and other members to community centers, churches, health fairs, homes, and wherever people gather, to educate the community about heart disease prevention, symptoms and treatment.
"It is a documented fact that health care disparities among minorities and lack of insurance are making this population more vulnerable to COVID-19, yet they are having the greatest challenges getting the information and testing even though they are showing many symptoms and underlying conditions that make the risk of spreading the virus even greater. If they are provided education and access to the resources to assist in changing their lives, they will in turn positively affect the health of their families and in time measurably affect the health and economic wellness of our community," said Wanda.
CCHHE goals for this grant are:
Zoom trainings for the committee and community  
Bi-annual newsletter and information on the impact of COVID-19 in the minority community                                                                                                         
Health information cards with COVID-19 information
Annual "Lunch & Learn" educational community event                          
Investigative research on health disparities and COVID-19 in minority and underserved populations of Tucson and surrounding communities        
For information on the Sarver Heart Center Women's Heart Health Education Committee and the Minority Outreach Program, please email heart@u.arizona.edu
Pre-pandemic, the Minority Outreach Committee/CCHHE members regularly participated in community health education events. The Community Foundation grant will help the volunteers develop digital resources and outreach.